Productos
BLE Development Shield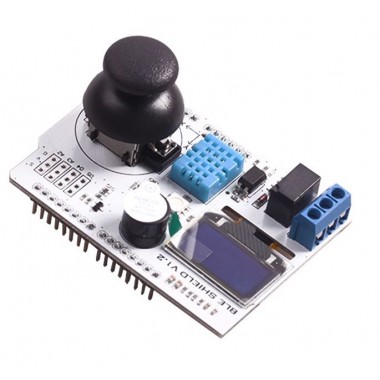 Plataforma de prototipado ideal para BLEduino, con muchos componentes útiles! No incluye el módulo BLE.
COD: EF02222
Peso: 0.033 Kg
Disponibilidad: En Stock

ARS 1838.00
El producto no está disponible para la venta en este momento
Características
The BLE Development Shield for BLEduino is specially designed for BLEduino (BLE with Arduino Uno), which is first of its kind in intergrating BT 4.0(BLE) module into Arduino Uno. Together with BLEduino, this BLE Shield forms an ideal prototyping platform for both software and hardware developers to go wireless. You will be able to develop your own smart bracelet, smart pedometer, etc. It's a low-power, real-time low energy communication perfect for embedded designs. With built-in seven main functional modules, this BLE Development Shield is dedicated to aid interactions between your BLEduino and the physical world.
If you feel the above functions are not able to provide for your specific needs, we have open sourced both the hardware and software so that you can DIY your own interface alongside with your prototypes. Also with our Sensors Shield , hundreds of sensors and shields will make it even more powerful. Enjoy making!
Features:
128x64 OLED Screen
Buzzer
DHT11 Temperature & Humidity Sensor
1.5A Relay
RGB LED
Helical Potentiometer
Joystick
The two leads MCU digital pins and analog pins
Size: 75mm*55mm
Applications:
BLE development
Industrial remote control and detection
Automated data collection
Bluetooth remote control toys
RGB LED control display system
Smart home, industrial control
Please visit our wiki page for more info about this product. It will be appreciated if you can help us improve the documents, add more demo code or tutorials.
Comentarios
Escribir Comentario
OpenHacks
(13/10/2016 - 15:57)
Hola Daniel, este Shield no es para Arduino sino para BLEduino (Arduino+BLE). Para cubrir tu necesidad podes utilizar el módulo HC-05 o el Bluefruit LE - Bluetooth Low Energy. Saludos!
Daniel
(13/10/2016 - 11:43)
Hola. Estoy buscando agregar conexión bluetooth a mi placa arduino uno, es simplemente para hacer pruebas de transmisión y recepción desde aplicaciones android. Quería saber si este shield me sirve.