Productos
Crazyradio 2.4Ghz nRF24LU1+ USB radio dongle with antenna (BC-CR-01-A)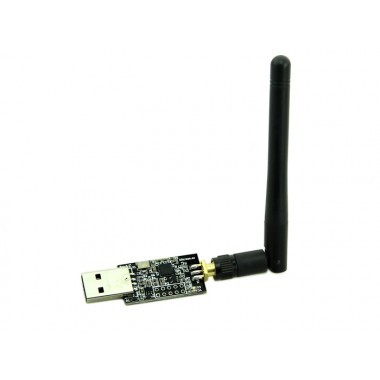 Dongle USB con módulo de comunicación nRF24LU1. Incluye antena.
COD: SEROB01313M
Peso: 0.010 Kg
Disponibilidad: En Stock

ARS 5247.00
El producto no está disponible para la venta en este momento
Características
The Crazyradio is the official radio dongle for the Crazyflie Nano Quadcopter. It is a 2.4GHz USB radio dongle based on the nRF24LU1+ chip from Nordic Semiconductor.
The design includes a 2x5 header (not mounted) where the dongle can be connected and powered from another source than USB. It also has two indicator LEDs.
The dongle is delivered with open source firmware and Python drivers that enables easy use. The dongle can communicate with any project using a compatible Nordic Semiconductor radio chip. The firmware can be freely modified as it is open source and can be compiled with an open source compiler (sdcc).
A bootloader on the dongle enables firmware updates without using any external programmer. It can also be programmed over SPI, which is available in the header. This is recommended when developing for it.
Crazyradio features
2.4GHz radio communication
0dBm output power (1mW)
125 radio channels
2Mbps, 1Mbps and 250Kps communication data-rate
Sends and receives data packets of up to 32 bytes
Automatically handles addresses and packet ack.
Hardware support for PPM input (no software support yet)
Can be powered with up to 16V via header
Tested up to ~80m range with the Crazyflie at 250Kbps
Resources