Productos
PoE module 5V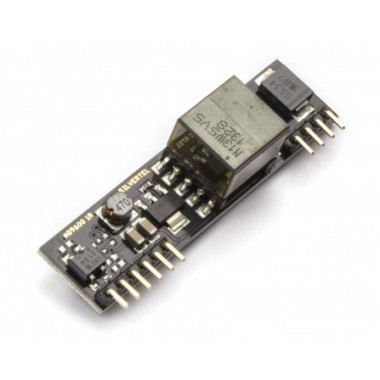 Módulo de alimentación PoE para tomar energía de cables de red Ethernet.
COD: X000010
Peso: 0.010 Kg
Disponibilidad: Sin Stock

ARS 1329.00
El producto no está disponible para la venta en este momento
Características
The Ag9050-S is a module designed to extract power from a conventional twisted pair Category 5 Ethernet cable, conforming to the IEEE 802.3af Power-over-Ethernet (PoE) standard. The Ag9050-S provides the PoE compatibility signature and power classification required by the Power Sourcing Equipment (PSE) before applying up to 15W power to the port. The high efficiency DC/DC converter operates over a wide input voltage range (36V to 48V typ) and provides a regulated low ripple and low noise output. The DC/DC converter also has built-in overload and short-circuit output protection. Features: - IEEE802.3af compliant; - Small SIL package size - 56mm (h) x 14mm (h); - Low output ripple and noise; - Input voltage range 36V to 57V; - Output voltage 5V; Overload and short-circuit protection; High efficiency DC/DC converter (75% typ); 1500V isolation (input to output); This module could be used with Arduino YÚN.