Productos
CO2 Sensor (Arduino compatible)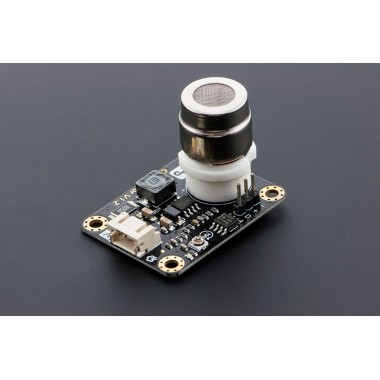 Sensor de dióxido de carbono (CO2) de salida analógica y digital. Por medio del potenciómetro incorporado puede regularse el disparo de su salida digital.
COD: DFSEN0159
Peso: 0.010 Kg
Disponibilidad: Sin Stock

ARS 13856.00
El producto no está disponible para la venta en este momento
Características
Description
"Greenhouse Effect" is melting the Earth ice core every minute and creating dangerous icebergs. By knowing the exact concentration of CO2, we can do somehing to reduce the CO2 and to protect our Earth. For that reason, this CO2 sensor is designed by DFRobot engineer. This is the first CO2 sensor in Arduino market. The output voltage of the module falls as the concentration of the CO2 increases. The potentiometer onboard is designed to set the threshold of voltage. As long as the CO2 concentration is high enough (voltage is lower than threshold), a digital signal (ON/OFF) will be released.
It has MG-811 sensor module onboard which is highly sensitive to CO2 and less sensitive to alcohol and CO, low humidity & temperature dependency. All components have industrial quality for stability and reproducibility.
Onboard heating circuit brings the best temperature for sensor to function. Internal power boosting to 6V for heating sensor best performance.
This sensor has an onboard conditioning circuit for amplifying output signal.
Applications
Air Quality Control
Ferment Process Control
Room Temperature CO2 concentration Detection
Specification
Operating voltage:5V
Interface: Analog
One digital output
High quality connector
Immersion gold surface
Onboard heating circuit
Size:32x42mm
Comentarios
Escribir Comentario
OpenHacks
(07/09/2015 - 15:56)
Hola David, volvermos a tenerlo en unos 45/60 días. Mientras tanto, tenemos este en stock: https://www.openhacks.com/page/productos/id/1298/title/WINMG811#.Ve3dqhGqqko Saludos!
David G
(07/09/2015 - 15:03)
Hola: vas a traer este sensor? cuanto tiempo estimas?