Productos
DIY Acrylic Thread Slider Kit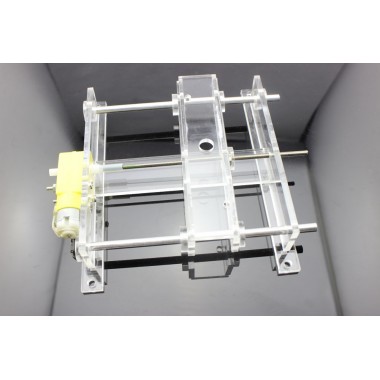 Kit de acrílico para construcción de un CNC.
COD: ECMM10102M
Peso: 0.230 Kg
Disponibilidad: En Stock

ARS 19911.00
El producto no está disponible para la venta en este momento
Características
Linear slide actuators are stationary rail frames with a motorized lead screw that slides a table in a straight line while carrying a load. They are most often refered to as an axis or plane of movement, quite often they are used in pairs to provide an XY movements at 90 degrees from each other. These axis are found in automated machinery(CNC),3 D printing and robotics with a host of other possible uses.
This positioner is made up of thick acrylic framework parts, and have round aluminum rails with a working length of 100 mm. They are 5 volt powered, use a M4 leadscrew and can be fitted with optional encoder wheel and sensor to track the tables position. These can be used for experiments in positioning,testing or whatever the imagination will allow. They stack easily and each kit contains the full parts to make an X or Y positioner. They are quiet, have excellent load carrying ability and are an inexpensive alternative for experimenting and education. These are also very lightweight. This kit can use the 1:48 or 1:120 ratio gearmotors.
Skill level 8 kit.(on a scale 1 easy to 10 difficult)
Package list
Encoder wheel x1
155mm long M4 threaded rod x1
M4 hex nut x1
146mm 6 mm aluminum rod x2
M2 screw x1
M2 nut x1
coupling flex tube x1
Micro-Speed Motor
M3*30mm screw x2
M3 Nut x2
19 acrylic parts
Wiki & External links