Productos
Freescale Freedom FRDM-KL25Z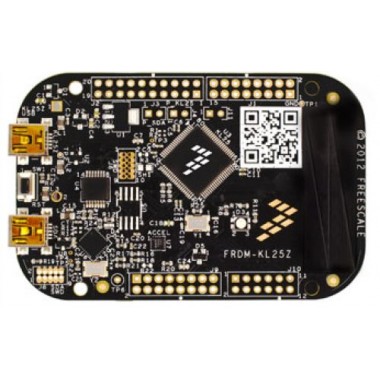 Plataforma de desarrollo de bajo costo basado en un procesador de arquitectura ARM Cortex-M0 de la familia Kinetis L. Posee conectores compatibles con Arduino.
COD: N28W5033
Peso: 0.100 Kg
Disponibilidad: Sin Stock

ARS 4961.00
El producto no está disponible para la venta en este momento
Características
Description
The KL2 MCU family is software and tool compatible with all other Kinetis L families and adds a Full-Speed USB 2.0 On-The-Go controller with an integrated low-voltage regulator. It is also compatible with the Kinetis K20 MCU (ARM® Cortex™-M4) family, providing a migration path to higher performance and feature integration. Devices start from 32 KB of flash in a small-footprint 5 x 5 mm 32 QFN package extending up to 256 KB in a 100 LQFP /100 MBGA package and combine ultra-low-power performance with a with a rich suite of analog, communication, timing and control peripherals.
Features
Core Architecture: ARM
Core Sub-Architecture: Cortex-M0+
Features: MKL25Z128VLK4 80 LQFP MCU, Arduino style headers, Cap touch slider, accelerometer, Open SDA
Kit Contents: Board only
No. of Bits: 32bit
SVHC: To Be Advised
Silicon Core Number: MKL2
Silicon Family Name: Kinetis - KL2
Silicon Manufacturer: Freescale
The FRDM-KL25Z Freescale Freedom development platform is a set of software and hardware tools for evaluation and development. This platform is a small, low-power, cost-efficient evaluation and development system for quick application prototyping and demonstration based on the Kinetis L series, the industry's first microcontrollers built on the ARM Cortex-M0+ processor. The development platform combines an industry-standard form factor with a rich set of third-party expansion board options. Using this platform to speed development, applications such as small appliances, gaming accessories, portable medical systems, audio systems, smart meters, lighting and power control, can now leverage 32-bit capabilities and the scalability needed to expand future product lines, all at 8- and 16-bit price and power consumption levels.
FRDM-KL25Z can be used to evaluate the KL1 and KL2 Kinetis L series devices. It features a KL25Z128VLK , a KL2 family device boasting a max operating frequency of 48MHz, 128KB of flash, a full-speed USB controller, and loads of analog and digital peripherals. The FRDM-KL25Z hardware is form-factor compatible with the Arduino™ R3 pin layout, providing a broad range of expansion board options. The on-board interfaces include an RGB LED, a 3-axis digital accelerometer, and a capacitive touch slider.
The FRDM-KL25Z is the first hardware platform to feature the Freescale open standard embedded serial and debug adapter known as OpenSDA. This circuit offers several options for serial communications, flash programming and run-control debugging.