Productos
Relay Shield for Arduino V2.1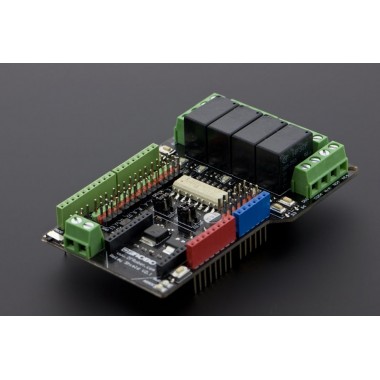 Shield compatible Arduino capaz de controlar 4 relés. Posee socket XBee.
COD: DFR0144
Peso: 0.100 Kg
Disponibilidad: Sin Stock

ARS 3005.00
El producto no está disponible para la venta en este momento
Características
Introduction
This relay shield is an ideal solution for home automation and robotics purposes.
This DFRoobot Relay Shield V2.1 is a completely new design which is capable of controlling 4 relays at a time. The max switching power could be DC 90W or AC 360VA. It could be directly controlled by Arduino/DFRduino controllers through digital I/Os with external 9V supply. With built-in Xbee socket, it can be wirelessly controlled via Xbee/bluetooth/WPM.
Features
Compatible with Arduino UNO Rev3
Each Relay has its own test button to test the connection
Standard DFRobot 3 Pin out
XBee I/O direct control
Specification
Compatible with Arduino Rev3
4 buttons to test module
LED status indicator of relay
Support Xbee IO directly control
Xbee socket for wireless communication
Selectable digital IO pin for control(Default digital 2,7,8,10)
6 channels Analog IO & 13 channels Digital IO
Up to 4 Relay with photo-coupled circuit
Contact Rating 3A AC 120V / DC 24V
Max Switching Voltage AC 240V / DC 60V
Max Switching Current 5A
Max Switching Power AC 360VA / DC 90W
Electrical Life (Min) 100,000 Operations
Mechanical Life (Min) 10,000,000 Operations
Safety Standard(relay) UL cUL TUV CQC
Coil Working Voltage 9VDC
Working temperature -30℃ to +85℃
Working temperature 40% - 85%
Size:95x65mm