Productos
4.3 LCD Touch Display for BeagleBone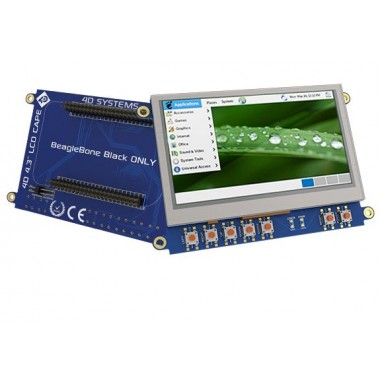 Display touch de 4.3" resistivo para BeagleBone Black. Incluye 7 pulsadores.
COD: 4DCAPE43T
Peso: 0.250 Kg
Disponibilidad: Sin Stock

ARS 14257.00
El producto no está disponible para la venta en este momento
Características
The 4DCAPE-43 is specifically designed for the Beagle Bone Black (BBB), which provides a 4.3" display for the BBB for direct user interaction and resistive touch display. The CAPE conveniently features a 4.3" TFT LCD 480x272 resolution display and seven push buttons.
The Beagle Bone Black connects directly to the back of the 4DCAPE-43, and provides everything the CAPE requires such as power and display signals. It also includes 4 mounting holes for easy panel/enclosure mounting.
Please note that the 4DCAPE-43 is designed to be the primary display for Beagle Bone Black only and cannot be programmed using 4D Systems' Workshop 4 IDE.
Features:
4.3" TFT LCD Display, 480x272 Resolution
7 push buttons, including LEFT, RIGHT, UP, DOWN, ENTER, RESET and POWER
2 LED's, one to indicate Power and one for User, which could be configured as required
Fully compatible with existing drivers already written for the Beagle Bone.
3.5mm mounting holes, enabling standard M3 screws/bolts to fasten the display to an enclosure, panel or an alternative mounting solution
Powered directly from the Beagle Bone Black, no additional power required