Productos
Spyder - Módem PLC para red eléctrica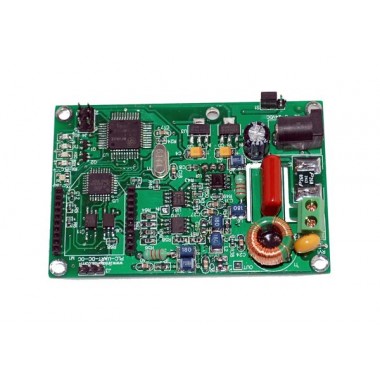 Nodo de comunicación de 2 Kbps de tipo PLC (Power Line Communications) compatible con red eléctrica.
COD: LS111101004
Peso: 0.050 Kg
Disponibilidad: En Stock

ARS 12519.00
El producto no está disponible para la venta en este momento
Características
Introduction
PLC-UART-LS is designed to transparently move serial data over the power line network at a speed of 2kbps, and achieves the target of replacing serial cables by the ubiquitous power line network.
On the PLC-UART-LS motherboard, there is a 20-pin receptacle. Users can choose different daughter boards, such as RS232, RS485, USB or Ethernet, based on the interface needs. The motherboard also support DIP by optional pins that can be used to directly plug to user's board without doing screwing.
PLC-UART-LS have built-in packet-level repeater function. This feature can greatly extend the coverage of the power line communication. PLC-UART-LS has both physical and logic addresses. In a network, both physical and logic addresses can be used to address different nodes in the network.
Modle:PLC-UART-LS
Features
AC and DC power line Communications.
5-24V wide range DC power supply.
Built-in opto-electronic coupling on the UART interface.
Fully transparent mode, plug and play coming out of the box without the need to do any programming.
Built-in error correction codes.
Built-in repeater function to extend the coverage.
Physical and logic address
AT commands used for advanced configuration.
UART interface to host uP
FSK(Frequency Shift Keying) modulation used in physical layer
Small module size, and easy to be implemented into existing products.
5V to 24V DC power supply
Application Ideas
Industry manufacture and control
Safeguard, fire alarm, smoke alarm
Collect and transmit instrument data
Solar/Wind electricity generation system
Specification
More information on the Wiki
Product Name
Spyder Transceiver Module
Interface
3.3V TTL UART
Optional interface cards:
RS232 (model/ordering no: UART-RS232)
RS485 (model/ordering no: UART-RS485)
USB (model/ordering no: UART-USB)
Ethernet (model/ordering no: UART-Ethernet)
Zigbee (model: Xbee from Digi.com)
Communication Line Voltage
230VAC/50Hz
110VAC/60Hz
0-400V DC
Supply Voltage
7V–12V DC, Internal " + " External " – "
Modulation
FSK(Frequency Shift Keying)
Carrier frequency
262K/144KHz
Error connection
FEC(Forward Error Correction)
Data rate on powerline
30 Kbps
Maximum packet data length
300 bytes
Repeat Hops
3 Hops
Transmission distance
300 feets(No Repeater)
Support nodes number
65535
LED
Power Line Activity LED/System LED/Serial port LED
More information on the Wiki
Comentarios
Escribir Comentario
Juan Pablo
(14/11/2013 - 09:09)
Hola Joel. Si, necesitarías 2 al menos, (o más si quisieras armar una red con varios nodos). La placa es como un "mother" donde se le pueden colocar en el zócalo de 20 pines, otros módulos que te permitan comunicarte por ejemplo a RS232, RS485, USB or Ethernet, simplemente usar la UART. De esa forma podés hacer un bridge a otras redes. Saludos!
Joel
(12/11/2013 - 22:03)
Para establecer una comunicación desde un punto a otro conectado a través de la linea de 220v, se necesitaría 2 de estos modem? gracias