Productos
RBoard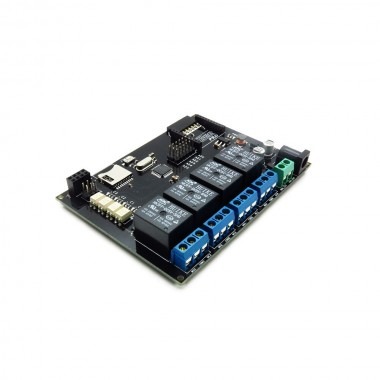 Board compatible con Arduino (ATMega328) que incluye 4 relés, socket XBee y socket uSD. Ideal para domótica o control remoto. Requiere USB Serial Light Adapter para su programación (no incluido)
COD: I000300
Peso: 0.200 Kg
Disponibilidad: Sin Stock

ARS 3626.00
El producto no está disponible para la venta en este momento
Características
Board compatible con Arduino (ATMega328) que incluye 4 relés, socket XBee y socket uSD. Ideal para domótica o control remoto. No dispone de puerto USB, por lo que requiere USB Serial Light Adapter para su programación (no incluido).
Overview
Rboard is a unique Arduino board which features 4 channels isolated relays, an XBee socket, and an ATMega328. This board will add relay control as well as wireless connectivity to your projects. It's great for anything from home automation to robot control. The possibilities are endless!
Features
4 optocoupler isolated channels
4 mechanical relays with status indicator LED
Both "NC" and "NO" ports for each relay
ATMega328P with XBee interface headers, Micro SD socket
With Arduino Duemilanove bootloader

PWR_EXT Setting
Rboard is designed for isolating industrial application with external power supply. So when remove the jumpers on PWR_EXT, use the DC 7-20 terminal to for ATMega328 and all digital circuit power supply, and supply the 5V relay by the PWR_EXT terminal with 5V, there are 2 completely isolated power systems for controller part and relay part.
If you don't need so stringent electrical isolation, put the jumpers on PWR_EXT, then you don't need an extra power supply, the relays will supply by the DC 7-20 terminal the same as controller part - but there also the opto-isolation between the relay and controller I/Os.
Note
The RBoard does not have a USB con­nec­tion. So you need a USB/Serial adapter
Archivos
Comentarios
Escribir Comentario
OpenHacks
(06/04/2015 - 16:21)
Quizás se pueda usar el arduino Uno como adaptador serie. Aquí hay un foro donde se desarrolla: http://forum.arduino.cc/index.php?topic=138832.0 En cuanto a las entradas y salidas digitales y analógicas, está detallado en el datasheet adjunto. Saludos!
Luis
(06/04/2015 - 03:00)
Me interesa! Se puede programar usando un arduino UNO, ya que no le voy a dar otro uso al adaptador serial? Cuantas IO digitales y analogicas tiene? Gracias! Luis