Productos
Temperature and humidity transmitter Modbus SHT20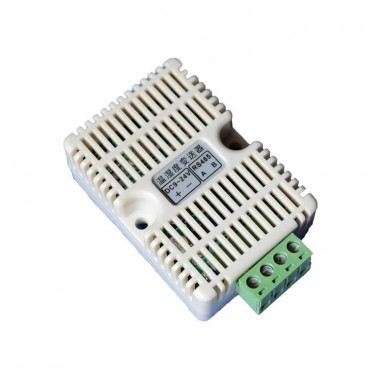 Módulo sensor de temperatura y humedad basado en el SHT20. Posee interfaz RS485 (protocolo Modbus Rtu).
COD: HTHS1567
Peso: 0.200 Kg
Disponibilidad: En Stock

ARS 3778.00
El producto no está disponible para la venta en este momento
Características
Product adopts industrial-grade chip, high-precision SHT20 temperature and humidity sensors, ensure the products with good reliability, high precision and interchangeability.
Adopt RS485 hardware interface (with the lightning protection design), the protocol layer compatible with standard industrial Modbus Rtu protocol.
This product integrating MODBUS protocol with ordinary, users can choose communication protocols, common agreement with automatic upload function (Connect the RS485 serial interface mode tool by automatically output temperature and humidity).
Modbus Function Code:
0x03: Read keep register.
0x04: Read input register.
0x06: Write a single keep register.
Specification:
Working voltage: DC 5-30V.
Output signal: RS485 signal.
Temperature measurement range: -40℃ ~ +60℃.
Humidity measurement range: 0%RH ~ 80%RH.
Temperature measurement accuracy: ±0.5℃.
Humidity measurement accuracy: ±3%RH.
Dimensions: 2.9x4.6x6.5cm/1.14x1.81x2.56inch.
Color: White.
Quantity: 1 Pc.
Package includes:
1 x Temperature & Humidity Transmitter