Productos
12V Mini Wired Strobe Siren 115dB with light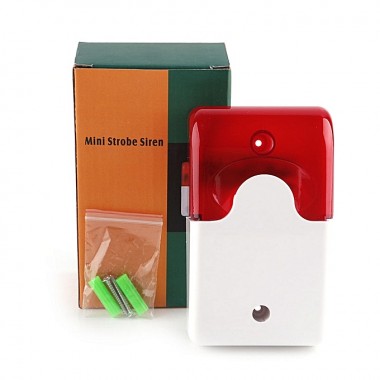 Mini sirena luminosa de 115 dB. Puede ser utilizada de forma independiente o bien integrada a un sistema de alarma, entre otras aplicaciones. Funciona con 12V. Incluye tornillos y tarugos para montaje.
COD: HTHS1385
Peso: 0.200 Kg
Disponibilidad: En Stock

ARS 736.00
El producto no está disponible para la venta en este momento
Características
Specially designed for the users who need strobe light and large volume.
Security Strobe Light Siren can receive signal of detector.
Connect the red wire to the postive pole and the black wire to the negative pole.
It can be armed/disarmed by remote control of panel.
It must connect with the alarm control panel to supply the power and support to give alarm siren warning ,so to scare away the theft.
Specifications:
1) Sound with red strobe light.
2) Compatible with any burglar alarms.
1) Buzzer Level: >=108dB /30cm.
2) Flash/ min: 150 times.
3) Rated Current: <=300 mA.
4) Rated Voltage: DC12V.
5) Size: 120mm x 72mm x 45mm.
Net weight: 103g.
Package content:
1 x Wired Strobe Siren Light.
Installation Guide:
If you need, you can also contact the police, fire department, hospital or other emergency personnel to come to your home immediately. You can contact child/older to confirm whether they are okay or in need of asistance.