Productos
CN3065 Mini Solar Lithium Battery Charger Board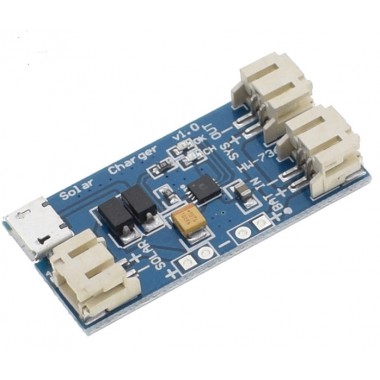 Mini cargador Lipo, basado en el CN3065. Ofrece un máximo de 500mA de corriente de carga y puede cargar la batería a través de energía solar o alimentación USB. Posee protección contra cortocircuito.
COD: HTHS1358
Peso: 0.005 Kg
Disponibilidad: En Stock

ARS 615.00
El producto no está disponible para la venta en este momento
Características
Description:
This is a super mini Solar Lipo charger based on the CN3065 - a single lithium battery charge management chip.
This Solar charger provide you with the ability to get the most possible power out of your solar panel or other photovoltaic device and into a rechargable LiPo battery. Set-up is easy as well, just plug your solar panel into one side of the Solar charger and your battery into the other and you are good to start charging!
The output of the Solar Charger is intended to charge a single polymer lithium ion cell. The load should be connected in parallel with the battery. By default, the Solar charge comes set to a maximum charge current of 500mA with a maximum recommended input of 6V (minimum 4.4V). It's recommended that batteries not be charged at greater than their capacity rating.
Features:
Solar panel input: 4.4-6V.
Max charge current: 500mA.
Interface: 2-pin JST connectors(or PH2.0).
Short circuit protection.
Continuous Charge Current Up to 500mA.
Battery status indication ( Red : Charging , Green: Charged).
Support USB Charge (Micro-USB Connector).
Size:2cm x 4cm.