Productos
AS-10 Rainproof 12V Automatic Photoswitch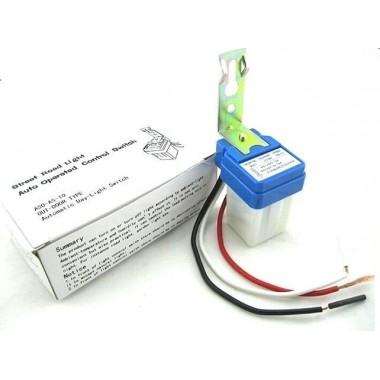 Switch fotoeléctrico para 12V. Ideal para combinar con equipos para exterior, automatizando el encendido y apagado de luces, como reflectores o farolas. Se alimenta con 12V DC/12 AC. Muy fácil de instalar.
COD: HTHS0692
Peso: 0.050 Kg
Disponibilidad: En Stock

ARS 606.00
El producto no está disponible para la venta en este momento
Características
Product Description:
1. To turn on or off the light in day and night without manual operation.
2. Do not install the control unit in a place extremely darker in daytime or a place directly by lighting of turning - ON lamp.
3. Widely used: street light, highway, factories, garden, ports, airports, farm, parks, schools, and other places. Also can fit into solar lamps and lanterns, or cars, motorcycles, electric cars and other power supply voltage is 220V lamps and lanterns or equipment.
4. Easy to install and Convenient to use.
5. Model: AS-10-12.
6. Input Voltage: DC or AC 12V.
7. Max Load Current: 10A.
8. Size:(approx) 5 x 4.2 x 3.5cm/1.96"x1.65"x1.37".
9. Frequency: 50-60Hz.
10. Turn-ON: Less 30 Lux.
11. Turn-OFF: Less 150 Lux.