Productos
D85-2042AG 80-300V 0-100A Digital Dual Display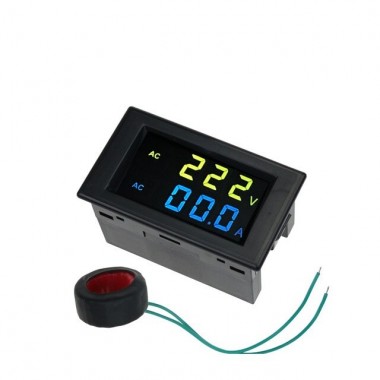 Medidor digital de tensión (AC) y corriente (AC). Integra un display dual. Rango: 80 a 300V/0 a 100A (AC).
COD: HTHS0578
Peso: 0.060 Kg
Disponibilidad: En Stock

ARS 2674.00
El producto no está disponible para la venta en este momento
Características
Product information:
The D85-2042AG digital AC voltage meter can simultaneously display the AC voltage and AC current. And the meter adopts colorful display to show the measurement result: the yellow display measuring voltage and the blue display measuring current. And the meter needs noincreasing working power and AC transformer. ( the meter is equipped with the precise miniature transformer, so it does not need to purchase separately).

Features:
1. Measurement Accuracy: 1% ± 2 digits.
2. Display Screen:
Voltage Display: yellow LCD.
Current Display: blue LCD.
3. Measuring range:
AC Voltage: AC 80.0-300 V, AC 200-450 V.
AC current: AC 0-100.0 A, AC 0-199.9 A.
( You can select the appropriate voltage and current range as your needs).
4. Measurement Speed: about 2 times per second.
5. External Dimensions: about 70 * 39 * 40 mm / 2.76 * 1.54 * 1.57 inches.
6. Installation Size: about 68 * 38 mm / 2.68 * 1.50 inches.