Productos
Raspberry Pi NoIR Camera Board v2 - 8 Megapixels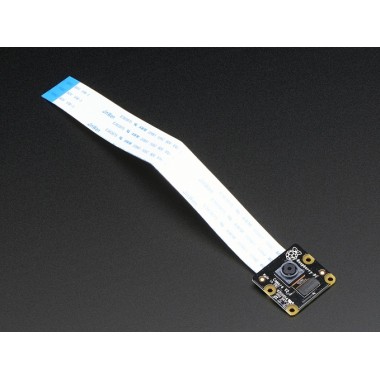 Cámara de 8mp capaz de grabar videos en 1080p y capturar imágenes, en entornos con poca luz y/o para fotografía infrarroja. Compatible con Raspberry Pi. La interfaz utilizada es CSI. Ideal para aplicaciones móviles por su pequeño tamaño.
COD: D003100
Peso: 0.034 Kg
Disponibilidad: Sin Stock

ARS 36045.00
El producto no está disponible para la venta en este momento
Características
Snap, snap! The NoIR Camera v2 is the official "night vision" camera board released by the Raspberry Pi Foundation!
The Raspberry Pi NoIR Camera Board v2 is a high quality 8 megapixel Sony IMX219 image sensor custom designed add-on board for Raspberry Pi, featuring a fixed focus lens. It's capable of 3280 x 2464 pixel static images, and also support 1080p30, 720p60, and 640x480p60/90 video.
It attaches to the Pi by way of one of the small sockets on the board's upper surface and uses the dedicated CSi interface, designed especially for interfacing to cameras.
The NoIR Camera has No InfraRed (NoIR) filter on the lens which makes it perfect for doing Infrared photography and taking pictures in low light (twilight) environments.
And we also have the new 8 megapixel version of the popular classic Raspberry Pi Camera Board!
The upgraded Raspberry Pi NoIR Camera board v2 features:
Improved Resolution:

8 megapixel native resolution high quality Sony IMX219 image sensor.
Cameras are capable of 3280 x 2464 pixel static images.

Remaining High Quality:

Capture video at 1080p30, 720p60 and 640x480p90 resolutions.
All software is supported within the latest version of Raspbian Operating System.
No Infrared filter making it perfect for taking Infrared photographs or photographing objects in low light (twilight) conditions
1.4 µm X 1.4 µm pixel with OmniBSI technology for high performance (high sensitivity, low crosstalk, low noise).
Optical size of 1/4".
Raspberry Pi not included!
Note: The accompanying cable is NOT compatible with Raspberry Pi Zero models. You will need to purchase the Pi Zero Camera Cable separately for Pi Zero compatibility.
Dimensions: 25mm x 23mm x 9mm / 0.98" x 0.90" x 0.35".
Weight (camera board + attached cable): 3.4g.