Productos
LG01-N Single Channel LoRa IoT Gateway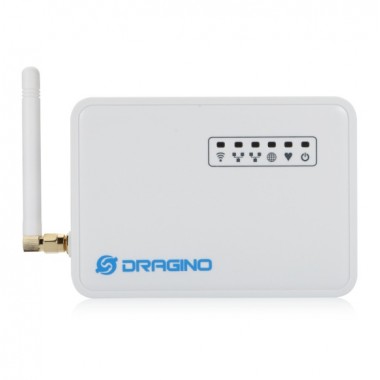 Gateway Lorawan configurado en 915 Mhz. Posee WiFi y 2 puertos Ethernet. Requiere fuente de alimentación de 9 a 15 VDC 0.5A (no incluida). A diferencia del LG01-P/LG01-S, el LG01-N permite usar Linux para controlar directamente el SX1276/78 facilitando la programación. Soporta MQTT y TCP/IP.
COD: DRALG01N
Peso: 0.230 Kg
Disponibilidad: Sin Stock

ARS 17250.00
El producto no está disponible para la venta en este momento
Características
LG01-N is an open source single channel LoRa Gateway. It lets you bridge LoRa wireless network to an IP network via WiFi, Ethernet, Or 3G/4G cellular via optional LTE module. The
LoRa wireless allows users to send data and reach extremely long ranges at low data-rates. It provides ultra-long range spread spectrum communication and high interference immunity.
LG01-N has rich internet connection method such as WiFi interface, Ethernet port and USB host port. These Interfaces provide flexible methods for users to connect their sensor networks to Internet.
LG01-N can support Limited LoRaWAN protocol in single frequency and customized LoRa transmit protocol. Different from LG01-P/LG01-S, LG01-N use the Linux to directly control the sx1276/sx1278 LoRa module which increase the communication efficiency and simplify the software design.
LG01-N can be used to provide a low cost IoT wireless solution to support 50~300 sensor nodes.

Except LoRaWAN mode, LG01-N can support mutiply working mode such as: MQTT mode, TCP/IP Client mode to fit different requirement for IoT connection.

LG01-N base on sx1276 solution which provide a low cost for your IoT network connection. Compare to the cost with normal SX1301 LoRaWAN solution. the LG01-N is only of its 1/4 or less cost. This make the LG01-N very suitable to set up small scale LoRa network.
Features:
Open Source OpenWrt system
Low power consumption
Firmware upgrade via Web
Software upgradable via network
Flexible protocol to connect to IoT servers
Auto-Provisioning
Built-in web server
Managed by Web GUI, SSH via LAN or WiFi
Internet connection via LAN, WiFi, Or 3G/4G via optional LTE module
Failsafe design provides robustly system
1 x SX1276/SX1278 LoRa module
Limited support in LoRaWAN/ Support Private LoRa protocol
Support upto 300 nodes
LoRa band available at 433/868/915/920 Mhz
Max range in LoRa: 5~10 km. Density Area:>500m
Applications:
Wireless Alarm and Security Systems
Home and Building Automation
Automated Meter Reading
Industrial Monitoring and Control
Long range Irrigation Systems
GPS tracker,etc
LoRaWAN Reapeter
Linux Side:
Processor: 400MHz, 24K MIPS
Flash: 16MB ; RAM: 64MB
Interfaces:
10M/100M RJ45 Ports x 2
WiFi : 802.11 b/g/n
LoRa Wireless
Power Input: 12V DC
USB 2.0 host connector x 1
USB 2.0 host internal interface x 1
1 x LoRa Interface
Documents: