Productos
WiPy 3.0 - Without Headers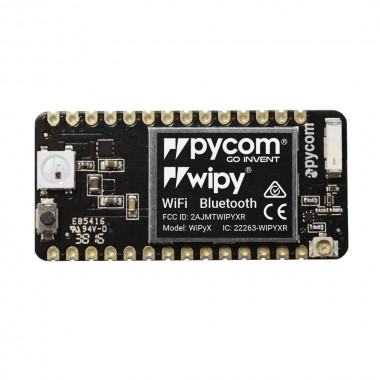 Módulo Wipy V3.0 con doble procesador que integra Bluetooth y WiFi (ESP32), compatible con plataforma MicroPython. A diferencia de su antecesor, proporciona más RAM (4MB).
COD: PY00014
Peso: 0.005 Kg
Disponibilidad: En Stock

ARS 15785.00
El producto no está disponible para la venta en este momento
Características
Description:
WiPy 3.0 is Pycom's updated enterprise grade IOT development platform. The tiny MicroPython enabled WiFi & Bluetooth IoT development platform. With a 1KM WiFi range, state of the art Espressif ESP32 chipset and dual processor, the WiPy 3.0 is all about taking the Internet of Things to the next level.
We've written an powerful and intuitive Python API to take advantage of every feature of the hardware. The learning curve is minimal. Simply put, Pycom boards are all about Python and the internet, but with rocket fuel.
If you are purchasing the WiPy 3.0 and wish to connect via USB to your computer, you will also need to purchase either the Expansion Board 2.0, Pysense or Pytrack.
Features:
Powerful CPU, BLE and state of the art WiFi radio.
1KM WiFi range.
MicroPython enabled, the Linux of IoT for fast deployment.
Fits in a standard breadboard (with headers).
Ultra-low power usage: a fraction compared to other connected micro controllers.
Processing:
Espressif ESP32 chipset.
Dual processor WiFi radio system on chip.
Network processor handles the WiFi connectivity and the IPv6 stack.
Main processor is entirely free to run the user application.
An extra ULP-coprocessor that can monitor GPIOs, the ADC channels and control most of the internal peripherls during deep-sleep mode while only consuming 25uA.
Interfaces:
2 x UART, 2 x sPI, I2C, I2S, micro SD card
Analog channels: 8_12 bit ADCs
Timers: 4_16 bit with PWM and input capture
DMA on all peripherals
GPIO: Up to 24
Hash/Encryption:
WiFi:
Bluetooth:
RTC:
Power:
3.3V to 5.5V.
3V3 output capable of sourcing up to 550mA.
Security & Certifications:
SSL/TLS support.
WPA Enterprise security.
FCC 2AJMTWIPY3R.
CE 0700.
Memory:
RAM: 4MB.
External flash: 8MB.
Hardware floating point acceleration.
Python multi-threading.
Size:
42mm x 20mm x 2.5mm (excluding headers).
Weight: