Productos
DC-DC Step-Down Power Module XL4015 4-38V 5A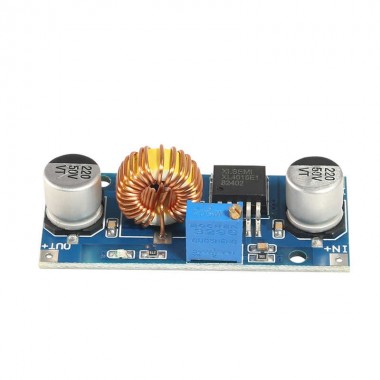 Fuente switching step-down (reductora) basada en el XL4015, de alta eficiencia (95%) y bajo ruido. Admite tensiones de entrada tan bajas como 4VDC, y permite obtener hasta 36VDC a la salida, con una corriente máxima de entrada/salida de 5A. Incluye disipador.
COD: TROOPM1171
Peso: 0.025 Kg
Disponibilidad: En Stock

ARS 262.00
El producto no está disponible para la venta en este momento
Características
Description:
5A High Power, High Efficiency, Low Ripple module with power indicator and heat sink.
Features:
Module type: Non-isolated Buck Module (BUCK).
Input voltage: 4-38V (Please try not to exceed 38V as input).
Output voltage: 1.25-36V continuously adjustable.
Output current: 0-5A, recommended for use within 4.5A.
Output power: It is recommended to use within 75W. If more than 50W, please add heat sink.
Working temperature: -40~+85 degrees.
Working frequency: 180KHz.
Conversion efficiency: up to 96% (efficiency related to input, output voltage, current, voltage difference).
Load adjustment rate: S(I) ≤ 0.8%.
Voltage adjustment rate: S(u) ≤ 0.8%.
Power indicator: Yes.
Short circuit protection: Yes (limited current 8A).
Over temperature protection: Yes (automatically turn off the output after over temperature).
Input reverse connection protection: None, (If necessary, please add a large current diode in the input string).
Installation method: 2 x Dia. 3mm screw.
Wiring method: welding, V-IN is input, V-OUT is output.
Module size: length 54mm width 23mm height 18mm.