Productos
XL6009 DC-DC ADJ Adjustable Boost Module 4.5-32V To 5-52V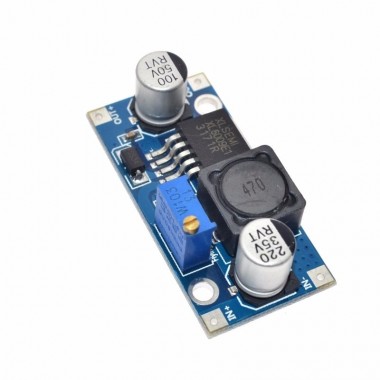 Fuente switching step-up (elevadora) de alta eficiencia. Admite tensiones de entrada tan bajas como 3 VDC, y permite obtener hasta 35 VDC a la salida, con una corriente máxima de entrada de 4A. Basada en el XL6009.
COD: HTHR0214-54
Peso: 0.025 Kg
Disponibilidad: Sin Stock

ARS 502.00
El producto no está disponible para la venta en este momento
Características
Description:
This is a high-performance switching current 4A boost (BOOST) module. The module uses the second generation of high-frequency switching technology XL6009E1 core chip, performance than the first generation technology LM2577. XL6009 boost module at a lower cost, superior performance.
Wide input voltage 3V ~ 32V, optimum operating voltage range is 5 ~ 32V;
Wide output voltage 5V ~ 35V;
Built-4A efficient MOSFET switch, so that the efficiency up to 94%; (LM2577 current is only 3A)
Ultra-high switching frequency 400KHz, you can use a small-capacity filter capacitors that can achieve very good results, the ripple is smaller and smaller. (LM2577 frequency only 50KHz)
Features:
Model: XL6009 boost module.
Module Properties: non-isolated step-up (BOOST).
Rectification: Non-Synchronous Rectification.
Input range: 3V ~ 32V.
Output range: 5V ~ 35V.
Input Current: 4A (max), empty load current 18mA (5V input, 8V output, empty load current 18mA, the higher the voltage, the greater the empty load current).
Conversion efficiency: <94% (the greater the pressure, the lower the efficiency).
Switching Frequency: 400KHz.
Output ripple: 50mV (the higher the voltage, the greater the current, the greater the ripple).
Load regulation: ± 0.5%.
Voltage regulation: ± 0.5%.
Working temperature: -40 ºC ~ +85 ºC.
Dimensions: 43mm * 21mm * 14mm (L * W * H).