Productos
Mini Solar Lipo Charger Board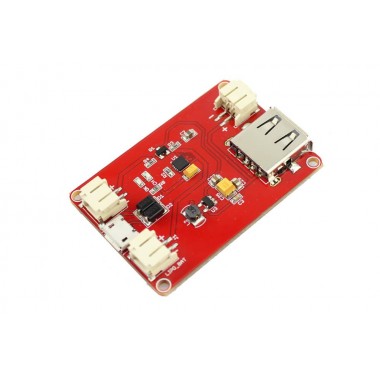 Cargador Lipo, no se requiere ninguna programación. Máximo 1A de corriente de carga. Carga la batería a través de energía solar o alimentación USB. Posee protección contra cortocircuito.
COD: ECPC09141S
Peso: 0.009 Kg
Disponibilidad: En Stock

ARS 859.00
El producto no está disponible para la venta en este momento
Características
Description:
In our application, especially in some outdoor applications, we often need to use the lithium battery, lithium battery charging problem is a need to solve the problem, we designed this mini lithium battery charging board.
Board size is very small , It can use external power supply, such as solar or USB power supply. It uses CN3065 - a single lithium battery charge management chip, when an external power supply to the lithium battery, you can also use it to output a stable 5V.500mA current, and we added a Moss tube as a power switch, when there is an external power supply to the lithium battery, the output will be directly from the external power supply to provide, so you can reduce the loss of lithium batteries, lithium batteries will increase the service life.
When the external power supply is cut off, it will immediately switch to the lithium battery power supply, lithium battery through the ETA1036 to form a boost circuit, and then output 5V power supply, ETA1036 is a highly efficient synchronous boost chip with load cut and short circuit Protection function, so it can implement UPS function. It would be a good helper if we used UAVs or some other model toys outdoors or went to camping.
Features:
Maximum 1A load output
Battery and Solar panel connector is JST 2.0
Stable 5V USB power supply regardless of source
Charge/Recharge algorithms built into chip
Charge Lithium Polymer Battery through solar power or USB
Stable supply voltage through either lithium battery or USB
USB ports let you program your kit while charging your Lithium battery
LED indications for battery full or charging states :One red alarm LED and one green status LED
Specifications:
Input voltage: 4.4V-6V
Output voltage / current: 5V 500mA
Operating temperature: -40 ℃ -80 ℃
Weight:9g
Package list:
Mini Solar/Lipo Charger Board x1.
Wiki & External links