Productos
AM2302 DHT22 Module for Arduino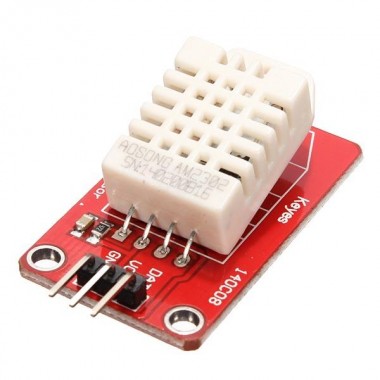 Módulo Sensor de humedad y temperatura DHT22, de muy bajo costo. La salida suministrada es de tipo digital, no requiriéndose utilizar entradas analógicas. Compatible con Arduino.
COD: HTHR0218
Peso: 0.025 Kg
Disponibilidad: En Stock

ARS 1570.00
El producto no está disponible para la venta en este momento
Características
Feature:
AM2302 Humicap digital temperature and humidity module is a digital output signal containing a calibrated temperature and humidity combined sensor. It uses a dedicated digital modules capture technology and the temperature and humidity sensor technology to ensure that products with high reliability and excellent long-term stability. Sensor includes a capacitive humidity sensing element and a high-precision temperature measurement devices, and with a high-performance 8-bit microcontroller connected. Therefore, the product has excellent quality, fast response, anti-interference ability, high cost and other advantages. Ultra-small size, low power consumption, signal transmission distance up to 20 meters. Making it the best choice for all kinds of applications and even the most demanding applications.
Applications:
HVAC (Heating Ventilation Air Conditioning), dehumidifiers, testing and inspection equipment, consumer goods, automotive, automation, data loggers, home appliances, humidity regulator, medical,weather stations, and other related humidity detection control.
Specification:
Dimension: 40 x 23mm.
Weight: 4g.
Voltage: 5V.
Port: digital two-way single bus.
Temperature range: -40-80 °C ± 0.5 °C.
Humidity: 20-90% RH ± 2% RH.
Platform: Arduino, SCM.
Package included: