Productos
Battery Holder - 8 x AA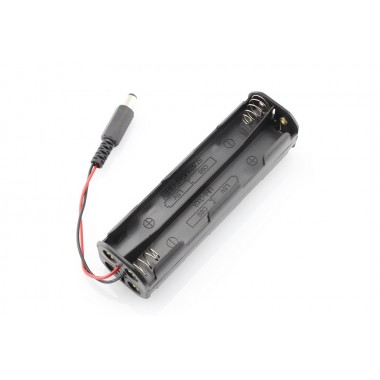 Portapilas para 8 pilas AA en formato alargado. Incluye cable de 85mm con conector DC de 5.5mm x 2.1mm.
COD: EPSB00802B
Peso: 0.020 Kg
Disponibilidad: En Stock

ARS 228.00
El producto no está disponible para la venta en este momento
Características
Description:
When you need a portable 12V power pack, this big holder will do the job! The holder will store 8 AA batteries end to end, to give approximately 12VDC output with up to 2 amp peak current draw. We like this configuration in particular because it holds the batteries securely, even if being bumped/moved around.
This would make a good power source for EL panels, 12V stepper motors (for a robot), or analog LED strip such as this 30 RGB LED, 60 LED RGB or warm white). You may want to pick up a DC power plug adapter to connect onto the wires for easy plugging.

Batteries are not included, can be used with any AA-sized Alkaline or Rechargeable batteries.
The 8 x AA Battery Holder with Switch puts a nice finishing touch on your battery powered project. The battery install in the both side of the battery holder and it was two AA battery series connect in together. The 85mm cable is terminated with a standard 5.5x2.1mm, center positive barrel jack connector.
Features:
8 AA batteries.
With a DC jack male.
Rectangle configuration.