Productos
5V/12V 8 Channel USB Relay Module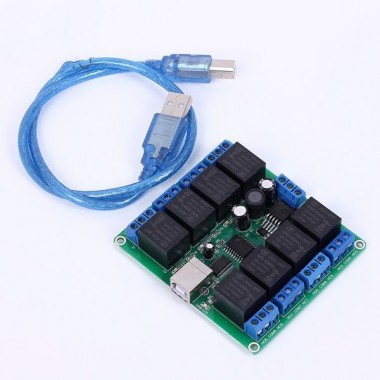 Módulo relé de 5v de 8 canales con interfaz USB. Se alimenta con tensiones de 5V a 30V. Basado en el chip ULN2803. Incluye cable USB.
COD: OKY3015-9
Peso: 0.159 Kg
Disponibilidad: En Stock

ARS 3888.00
El producto no está disponible para la venta en este momento
Características
Module Description:
The module uses a parallel FIFO FTDI's bi-directional data transfer USB chip, For microprocessor which provides 8-bit parallel data bus D0~D7, For external host is a standard serial bus or virtual interface, Maximum data transfer rate of up to 1MB/s, Provide USB 1.1/2.0 full speed physical interface specifications, Support UHCI/OHCI/EHCI host controller. PC with a time delay function.
Application:
Home intelligent switch control, intelligent switch hotel, hotel intelligent electrical control, intelligent greenhouses, shopping malls intelligent switch, the company plant intelligent switching, timing of management of Internet cafes, karaoke OK timing control, physical networking, industrial control equipment, testing equipment power control, street management intelligent management, centralized power management.
Description:
1. Onboard USB B interface.
2. Using parallel FIFO bi-directional data transfer USB controller chip.
3. Use the special relay driver chip ULN2803, more stable relay.
4. Use SONGLE relay.
5. High quality PCB board production.
Product parameters:
1. Input voltage: DC 5-30V.
2. Input current: more than 800Ma.
3. Wiring: NC / COM / NO.
4. Relay parameters: the maximum you can control AC 250V 10A and DC 30V 10A.
5. product Ambient temperature: 0-80 Centigrade.
6. Product Dimensions: length 92.5mm, width 70.5mm, height 20mm.
7. Positioning hole size: 88mmx66mm, 3.2mm aperture.
8. Product life: 1 million times.