Productos
Encoder Board for Arcade Game Joystick Controller MAME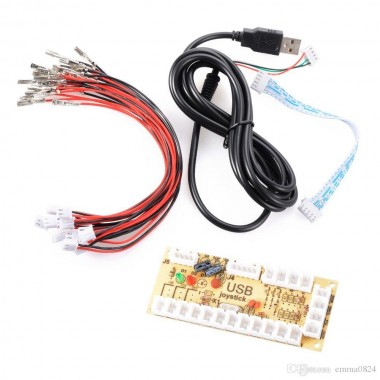 Ésta interesante placa controladora ofrece la posibilidad de conectar hasta 13 pulsadores permitiendo diseñar tu propio Joystick a medida. Incluye juego de cables de interfaz para conectar un joystick con palanca y los pulsadores, además de cable USB para conexión a PC. No incluye el joystick ni los pulsadores.
COD: HTHS0368
Peso: 0.100 Kg
Disponibilidad: En Stock

ARS 2583.00
El producto no está disponible para la venta en este momento
Características
Product description:
This set of encoder require to use 4.8mm terminal Joystick and 4.8mm size terminal push buttons.
HAPP Style Joysticks & Push Buttons can fit for this set perfectly.
The Zero delay USB Pc Encoder is the most cost effective encoder option.
Use this encoder set you can easily DIY your own arcade game machine.
You just need simply connect your arcade controls into the encoder board with the included wires, And then plug the encoder into your computer USB Port.And then just enjoy your arcade Games with your PC.
It can support all the windows system including windows XP, Windows 7, Windows 8 ect.
It also can support most Arcade Emulations, Such as MAME, JAMMA & other PC gaming console emulation.
Also a great encoder for making a fight stick.
It is also a very compact encoder. The size for the encoder board just 8.5 cm X 3.5 cm X 1 cm.


Compatible model:
MAME & Fight Stick etc.
This item is support for one Player, If you want to build a Multiplayer Machine,Just need add the quantity for your player.
Packing Includes:

1 x High quality encoder board.
1 x USB Cable.
4 x 2 pin Cable for Joystick (The terminal is 4.8mm).
13 x Wire cables for Buttons. (The size for this cable is perfect for HAPP Push Button).

Feature:
High performance CMOS technology.
Support function key TURBO and AUTO mode with LED twinkle.