Productos
830 Breadboard+Power Supply Module+140 Jumper Wire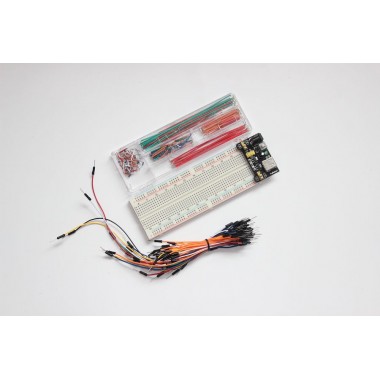 Excelente kit para desarrollo de circuitos en protoboard y experimentación. El mismo está integrado por una protoboard de 830 puntos de conexión, una fuente de alimentación compatible con protoboards con salida 3.3v y 5v, y 140 cables para conexionado organizados en un estuche plástico.
COD: HTHR0179
Peso: 0.150 Kg
Disponibilidad: Sin Stock

ARS 636.00
El producto no está disponible para la venta en este momento
Características
Products Specification:
1. Breadboard 830:
Distribution strip, Tie-point 200
Terminal Strip, Tie-point 630
Completely reusable
Colored coordinates for easy component placement
Model: MB-102
Phosphor bronze nickel plated spring clips
Accepts a variety of wire sizes (29-20 AWG)
Dimensions:165 x 54 x 8.5mm
2. Breadboard Power Supply Module:
Brand new & high quality.
Breadboard power supply module, compatible with 5 V, 3.3 V.
Apply to MB102 breadboard.
Input voltage: 6.5-12 V (DC) or USB power supply.
Output voltage: 3.3V/5V can switch over.
Maximum output current:
Fluctuation of two road independent control can switch over to 0 V, 3.3 V, 5 V.
On-board two groups of 3.3V, 5V DC output plug pin, convenient external lead use.
Please notice: this item only a Power Supply Module.
3. 140 Jumper Wires:
100% brand new and high quality.
140pcs Solderless Breadboard Jumper Cable Lead Kit.
Hard Wire with Angled shape.
Comes with 14 kinds of different length jumper lead, each kind of jumper lead has 10 pcs with different colors, that is to say, there has 140 pcs jumper lead with a different length.
A transparent plastic box for convenient to carry and not easy to lost.
Color: Assorted color.
Quantity: 140 pcs.