Productos
Panel solar 6V 3.4W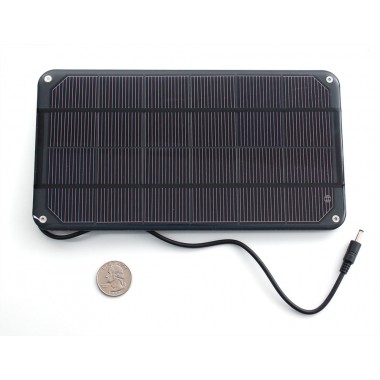 Panel solar de 6 voltios a prueba de agua, resistente a rayaduras y rayos UV.
COD: D000500
Peso: 0.090 Kg
Disponibilidad: En Stock

ARS 2964.00
El producto no está disponible para la venta en este momento
Características
These panels come to us from Voltaic Systems, makers of fine solar-powered bags and packs. These are waterproof, scratch resistant, and UV resistant. They use a high efficiency monocrystalline cell. They output 6V at 530 mA via 3.5mm x 1.3mm DC jack connector - a nice upgrade to the 2W panels we have been carrying. The substrate is an aluminum / plastic composite, specifically designed to be strong and lightweight. They can easily stand up to typical outdoor use including being dropped and leaned on. They're very high quality and suggested for projects that will be exposed to the outdoors.
New! These now come with 4 plastic mounting screws which makes it easy to attach the panel, even to fabric!
Size: 4.4" x 8.4" / 110mm x 215mm
Weight: 3 ounces / 90 grams
Cell type: Monocrystaline
Cell efficiency: 17%+
For some nifty ideas on what to do with your solar panels, check out Voltaic's DIY page
Dimensions:
Length: 111.86mm/4.40in
Width: 215mm/8.4in
Thickness (without screws): 4.72mm/0.18in
Thickness (with screws): 9.82mm/0.38in
Weight: 140g/4.8oz