Productos
LM2596S DC to DC Adjustable Step Down Module With Led Voltmeter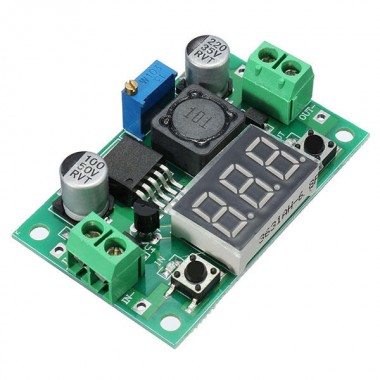 Módulo de conversión DC-DC ajustable, basado en el LM2596S, con display de medición integrado y dos pulsadores para mostrar los valores de entrada/salida.
COD: HTHR0214-84A
Peso: 0.060 Kg
Disponibilidad: En Stock

ARS 892.00
El producto no está disponible para la venta en este momento
Características
Features:
With voltage display function, the displayed accuracy is ± 0.05V, range is 0 - 40V.( Note: in order to voltage display more accurate, please ensure that the input voltage is higher than 4V).
Button to switch measurement of the input or output voltage, and LED indicates the current measurement of the input or output voltage.
The nixie tube can be turned off by another button.
Mentioned in these states are able to be memorized, is not lost even if the power is disconnected.
Continuously adjustable output voltage range of 1.25V -37V, 4-40V input voltage range.(The input voltage is at least high than the output voltage of 1.5V).
High efficiency,150 kHz fixed frequency internal oscillator.
Guaranteed 3A output load current.
Thermal shutdown and current limit protection.
Specification:
Input voltage range: 4-40V
Output voltage range:1.25V -37V
Output current: 2 A continuous output.
Output power: the maximum 15W
Ripple frequency: 150 KHZ.
Grain wave peak: 100MV
Voltmeter precision: ± 5 %
Product size: approx. 55*35*17mm/2.16*1.37*0.66''
Single weight: approx. 18g
Quantity: 1pc