Productos
Multi-function shield for Arduino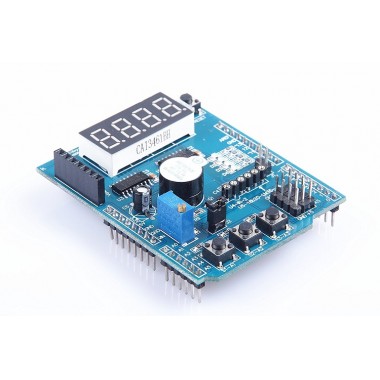 Shield multifuncional para Arduino. Su diseño permite conectar fácilmente sensores de temperatura, de distancia y de movimiento, módulos de reconocimiento de voz, servos y módulos Bluetooth y WiFi, etc. Integra buzzer, display de 4 dígitos, potenciómetro, pulsadores, etc. Apropiado para fines educativos y de investigación o experimentación.
COD: HTHR0214-74A
Peso: 0.027 Kg
Disponibilidad: En Stock

ARS 787.00
El producto no está disponible para la venta en este momento
Características
Product description:
This is an open-source code base and Simple I/O platform. Can be used to complete the development of electronic components such as Switch or Sensors or other controllers , LED, stepper motor or other output device . Bluetooth, wireless interfaces, voice module , voice recognition module can be used for wireless communication experiment servo interface, easy to drive servos infrared detection interface, easy and infrared docking realization of human traffic statistics , etc.
Features:
Compatible with Arduino 2009, UNO, LEONARDO, 2560 and other controllers.
4 LED lights (LED indicator to know the importance of doing in the actual project, with this indicator can work directly with the program status indicators for easy debugging.
3296 Precision adjustable potentiometer, analog input port (can be used to control LED brightness, turn the steering angle, digital voltage, etc.).
Four digital (using 74HC595 driver provincial IO learning SPI), you can do digital display test (can display temperature, voltage, counter value, etc.).
Three separate buttons, a reset button, you can do key experiments (HMI).
Name: Arduino multifunction expansion board.
Size: 69 * 54 * 11mm (L * W * H).
Net weight: 27g.

Uses include:
The buzzer sound can be used for Sound experiments.
Bluetooth, a wireless interface, voice module, voice recognition module, can be used for wireless communication experiments.
Servo interface, easy to drive steering.
Infrared detection interface to facilitate docking and infrared, to achieve human traffic statistics.
DS18B20 temperature sensor interface, you can do temperature measurement experiment. (Not including DS18B20).
LM35 temperature sensor interface, temperature measurement can be done experiment (not including LM35).
Integrated infrared receiver, can fit any infrared remote control experiment (not including the integrated receiver).

Package Included:
1*Arduino Multi-function Shield.