Productos
GSM GPRS A6 Breakout Board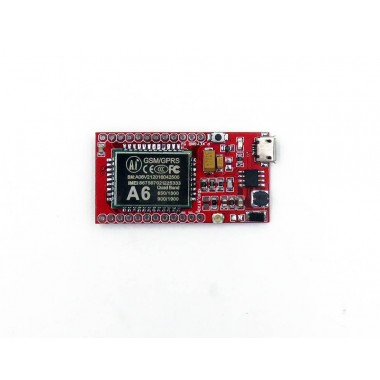 Placa compacta basada en el módulo A6 GSM/GPRS con conector para antena. Para aplicaciones de Internet de las cosas (IoT). Posee slot para micro SD y puerto micro USB. Librerías disponibles en la web.
COD: TRONGS1044
Peso: 0.020 Kg
Disponibilidad: En Stock

ARS 2305.00
El producto no está disponible para la venta en este momento
Características
Description:

The A6 Module provides a serial port to communicate via GPRS, sending text messages and phone calls. The GPRS functions can be used for IoT project which does not require WiFi connection condition. The GSM functionality of the module provides more ways to send commands to your IoT device. Combine with our breakout board and get started on your IoT communication!
Specifications:
Dimension: 22.8×16.8×2.5mm
Frequency: 850, 900, 1800, 1900 MHz
GPRS multi-slot: 12, 1-12 configurable
GPRS Station: Class B
Compatible GSM Phase 2/2+: Class 4 (2W @ 850/ 900 MHz), Class 1(1W @ 1800/1900MHz)
Operating Voltage: 3.3 - 4.2V
Current: 1.3mA @ DRX=5, 1.2mA @DRX=9
Temperature: -30 degree to +80 degree
Weight: 3.0g
AT Command: Standard GSM07.07,07.05 AT command and Ai-Thinker extend command
GPRS Class 10 speed: max. 85.6 kbps (up), 42.8kbps (down)
Support PBCCH, CSD, USSD
Protocol Stack: PPP, TCP, UDP, HTTP, FTP, SMTP, MUX
Certification: CE, FCC, ROSH, CTA
Datasheet:
Features:
Based on very price-competitive GSM/GPRS module A6, which only 3.2 USD. This breadboard friendly module only 5.8 USD.
Power by microUSB (need 2A current power), use USB-TTL debugging and send AT commands.
Compact size, breadboard friendly for prototyping.
On Board boot-up button, power LED. IPX antenna connector.
Industrial level GPRS, many industrial application you can build with it.
Notice: on back sim card socket, please notice it use normal/big/common sim card, not nano/mini/micro card, you need prepare spare sim card on normal size, or prepare card fitter.
Documentation:
Tutorial:
https://www.stavros.io/posts/making-gsm-board/
Package:
Break away pin headers are NOT solder on it, so you can easily modified it.
This purchase is board only, you may need extra