Productos
Switching Power Supply 200W 115-230VAC 48VDC 4.2A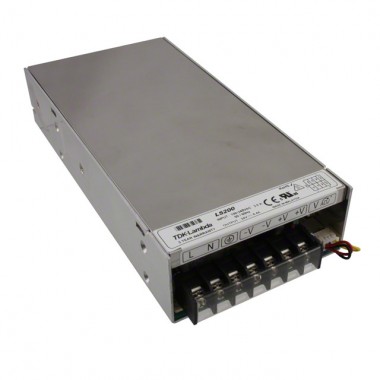 Fuente Switching de alta eficiencia, de 200W, entrada 110/220 VCA, y salida 48V/4.2A.
COD: LS200-48
Peso: 0.000 Kg
Disponibilidad: Sin Stock

ARS 17513.00
El producto no está disponible para la venta en este momento
Características
Product Description:
Developed to provide low cost and small size power solutions, the LS200 Series of AC to DC single output power supplies are available now with the most popular DC output voltages, including: 5V, 12V, 15V, 24V, and 48V. All DC outputs are adjustable up to ±10% via a front panel mounted adjustment potentiometer. In addition, a front panel green LED is "On" when the output is good and remote On/Off control is standard.
With its internal fan-cooling the LS200 series will provide up to 200W of output power. These power supplies not only carry the CE Mark but are certified to UL, CSA, and IEC 60950-1 safety specifications. The units have a with-stand voltage of up to 1.5kVAC input to ground, 3kVAC input to output, and 500VDC output to ground. This series conforms to the immunity standards of EN61000-4-X and the EMC/EMI standards of EN55011-B, EN55022-B and FCC-Class B.
In many applications, the AC input line quality is poor and factory equipment can cause input voltages to fluctuate and generate high voltage spikes. Such line transients and disturbances can drastically reduce the life of many low cost power supplies that are only designed for use in office environments. All models meet the Power Factor and Harmonic Correction requirements of EN61000-3-2. Also included are overcurrent and overvoltage protection circuits.
Features:
Very low cost.
Small size.
Wide range AC input.
Convection or fan cooled.
1.6" high - for 1U racking.
Applications:
Industrial.
Test.
Communications.
LED.
Broadcast.
Specifications:
Applications:

ITE (Commercial).

Approvals:

CE.

Current - Output (Max):

4.2A ~ 40A.

Efficiency:

75% ~ 85%.

Mounting Type:

Chassis Mount.

Number of Outputs:

1.
Operating Temperature:

-25°C ~ 70°C (With Derating).

Power (Watts):

200W.

Voltage - Isolation:

3kV.

Voltage - Output 1:

5V ~ 48V.

Dimensions: 198.1mm x 99.1mm x 40.9mm