Productos
A6 GSM/GPRS Dev Board Module With Antenna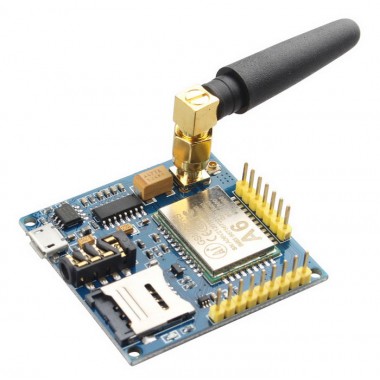 Placa de desarrollo basada en el módulo GPRS A6. Soporta GSM y GPRS, además de transmisión de SMS remota. Se comunica con Arduino Y microcontroladores relacionados mediante UART, por medio de GSM, Ai-Thinker y comandos AT. Se alimenta con tensiones de 4.8-9 VDC.
COD: HTHS0166
Peso: 0.019 Kg
Disponibilidad: Sin Stock

ARS 6617.00
El producto no está disponible para la venta en este momento
Características
Description:
This is professional version serial GSM / GPRS core development board based on GPRS A6 module. It supports dual-band GSM/GPRS network, available for GPRS and SMS message data remote transmission.
The board features compact size and low current consumption. With power saving technique, the current consumption is as low as 3mA in sleep mode.
It communicates with microcontroller via UART port, supports command including GSM 07.07, GSM 07.05 and Ai-Thinker enhanced AT Commands.
Features:
- Working frequency: quad-band network, 850 / 900 / 1800 / 1900MHz
- Working voltage: 4.8-9VDC(On-board voltage regulator circuit supply power for A6 module)
- Working Current: maximum of 2A
- Sleep Current: 5mA
- Onboard Micro SIM card holder, you can install Micro SIM card
- Onboard Micro USB interface for external power supply
- Communication Interface: TTL serial port / RS232 serial port
- Baud rate: 115200bps and it can also be set by AT command.
- Interface logic voltage: 3.3V
- Make and answer phone calls using a headset and electret microphone.
- Send and receive SMS messages.
- Send and receive GPRS data (TCP/IP, HTTP, etc.) .
- Be used to test the Ai-Thinker GPRS A6 module
- Pin pitch: 2.54mm
- Onboard antenna interface: SMA and IPX
About the Antenna:
- Suitable for SIM800L GSM modules / FOR Arduino SIM900 GPRS Shield
- Frequency: 780MHz ~ 960MHz .1710MHz ~ 2170MHz
- Antenna gain: +2.0 ± 0.7 dBi @ 880 MHz, +2.0 ± 0.7 dBi @ 1800 MHz
- S.W.R <= 2.0 @ 2100 MHz ~ 2500 MHz
- Output Impedance: 50 Ohm
- Antenna interface: SMA
Package Included:
1 x Module.
1 x Antenna.
Model
N/A
Form Color
Blue + Black
Quantity
1Piece
Material
PCB + alloy + plastic
Specification
Frequency
850 / 900 / 1800 / 1900MHZ
Working Voltage
DC 4.8~9V
English Manual / Spec
Yew
Dimensions & Weight

Dimensions
1.77 in x 1.77 in x 0.59 in (4.5 cm x 4.5 cm x 1.5 cm)
Weight

0.68 oz (19.3 g)