Productos
FireBeetle Board-328P with BLE4.1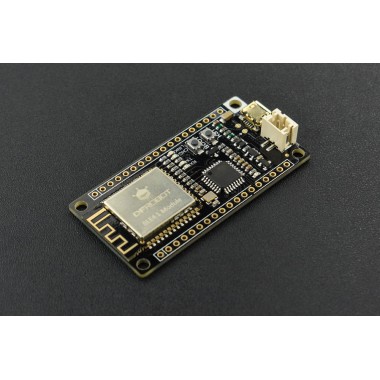 Microcontrolador que combina la tecnología Bluetooth de bajo consumo BLE 4.1 y el controlador Arduino Pro (Atmega 328p de 8 Mhz), ofreciendo en conjunto, una variedad de funciones similares a la versión Bluno pero con aún menor consumo y más disponibilidad de IOs digitales. Ésta placa está diseñada para realizar numerosos proyectos relacionados al IoT. Posee interfaz micro USB.
COD: DFR0492
Peso: 0.010 Kg
Disponibilidad: En Stock

ARS 9554.00
El producto no está disponible para la venta en este momento
Características
Introduction:
DFRobot FireBeetle series are low power consumption microcontrollers designed for Internet of Things (IoT) development. This Bluetooth controller combines Bluetooth Low Energy 4.1 with Arduino controller, offering functions similar to the former Bluno series but with lower power consumption.

FireBeetle BLE 4.1 is compatible with Bluno series (BLE 4.0) and performs much better. It equipped with more stable DIALOG Bluetooth 4.1 chip, supporting maximum 4Kbyte/s transmission rate and low power consumption (25uA POWER DOWN). It can be directly applied to low power consumption application such as wearable and intelligent tools and so on.
It also supports multiple Bluetooth cascade, KISS connection (approach connection) and compatible with Bluno series. Its connection can be realized by holding host BOOT and moving to the target peripheral device.
Features:
Support Arduino IDE program.
Support BLE 4.1 central and peripheral switch.
Support Bluetooth serial port data transmit.
Support Bluetooth peer to peer (P2P) wireless programming.
Support Bluetooth 4.1 multiple device cascade (maximum:4).
Support Arduino Bluetooth library (support multiple Bluetooth connection).
Support low power consumption Bluetooth (standby current: 25uA; enabled interrupt current: 70uA)
Double interruption to wake up:
BLE4.1 awake Atmage328P by D2 (high level awake).
Atmage328P awake BLE4.1 by D3 (low level awake).
Support KISS connection (approach connection).
Support Bluetooth firmware update.
Support USB charge.
Support lithium battery power supply.
Equipped with status LEDs.
Specification:
Processor: ATMEGA328P.
Bootloader: Arduino Pro or Pro Mini, ATmega328 (3.3V, 8MHz).
Operating Current: 3.3V.
VCC I/O Voltage: 3.7V~5.5V.
Lithium Battery Voltage: 3.7V.
Support maximum 4Kbyte/s transmission rate (more device, lower rate).
Support low power consumption: 25uA (POWER DOWN); 70uA (enabled interruption).
Support maximum discharge current: 600mA (LDO-3.3V OUTPUT).
Support maximum charge current: 400Ma.
Digital Interfaces: 14.
Analog Interfaces: 6.
SPI: 1.
I2C: 1.
UART: 1.
LED_BUILTIN: D13.
Interface Mode: 2.54mm (Pin/Female header), soldering free in default.
Dimension: 58 * 29 mm/ 2.28 * 1.14 inches.
Shipping list:
FireBeetle Board-328P with BLE4.1 x1.
18 pin-2.54mm x2.
18 female header-2.54mm x2.