Productos
GPD2856C MP3 Decoder and Play Board, w/Amplifier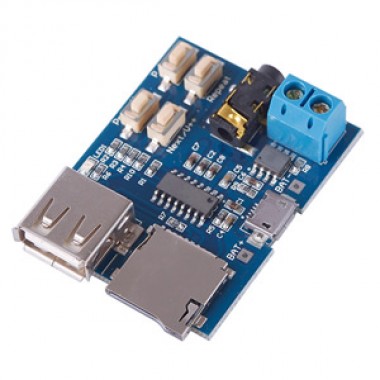 Módulo decodificador MP3. El mismo puede reproducir archivos MP3 ya sea desde una MicroSD o un Pendrive. Posee un amplificador de 2W integrado de tipo Mono de alta calidad, brindando además la posibilidad de poder ser conectado a un amplificador externo, o bien directo a un Speaker, Auricular, etc. Provee de pulsadores para funciones de reproducción, volumen, etc. Se alimenta con tensiones de 3.7 ~ 5.5V.
COD: TROSSL1014
Peso: 0.005 Kg
Disponibilidad: En Stock

ARS 1755.00
El producto no está disponible para la venta en este momento
Características
Description:
This MP3 decoder board can play MP3 files from a USB flash drive or from a MicroSD flash memory card. The player has decent sound quality, an on-board 2W mono amplifier, and can be directly connected to a speaker. It also features a 3.5mm gold plated headphone jack that can connect headphones or an external audio amplifier.
Features:
Super quality, onboard 2W mono amplifier (5V supply up to 3W) directly connected to the speaker (Recommended with 4Ω/3W speakers).
3.5mm gold plated headphone jack can be connected to headphones or an external amplifier board.
With MicroUSB power supply interface, the use of mobile power supply or USB charger powered via phone lines, may also be 3.7V lithium battery, USB 5V power supply.
Support TF card (memory card in your phone), USB disk playback mode.
Screw speaker terminals without soldering for easy connection to speakers (in Mono).
Module is designed to facilitate modification.
Can be easily connected to power amplifier board. i.e. https://www.openhacks.com/page/productos/id/731#lightbox['galeria']/5/

Power range: 3.7 ~ 5.5V.
Size: 45mm x 36mm.
Usage:
It supports MP3 format, power automatically play when playing red LED status updates.
Flash disk support (tested 32G), TF card (tested 16G) Play mode; the default power mode TF card, TF card is not present if the automatic jump to U disk mode, and both devices have installed, you can manually set the playback mode, details key instructions.
Button to adjust up and down the track switch, volume + -, pause / play, mode switching, details key instructions.
Key settings can be "single / whole song" cycle, the default power cycle the whole song, press the "Repeat" button to replace the circulation mode.
Button Operations:
"Prev / V–" button: "Press" for the switch "on a" song, "long press" is "volume Decrease"
"Next / v ++" button: "Press" for the switch "next song" Song, "long press" is "volume .increment"
"P / P / Mode" button: "Press" for the "Play / Pause" switch, "long press" U-disk, TF card. "pattern"
"Repeat" button: "Press" for the "single / whole song" to cycle (no long press function).
Note:
"Long press" for about 2S.
If you use U disk mode, it is recommended 5V power supply, and some U disk does not support 3.7V power supply.