Productos
ESP32-PICO-D4 WIFI+Bluetooth IOT IC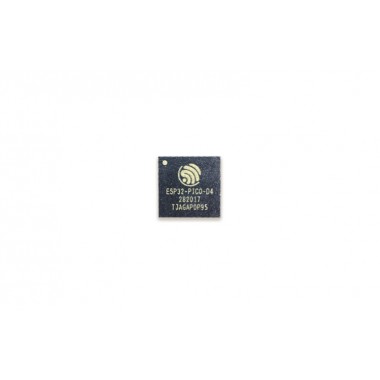 Integrado ESP32-PICO-D4 en formato SIP (System-in-Package). Provee funcionalidades Wifi y Bluetooth. Debajo de la descripción encontrarás numerosa información, como ejemplos de aplicación, datasheet, manuales, instrucciones AT, links a foros, esquemáticos, SDKs, etc. Ideal para desarrollo de proyectos de IOT.
COD: TROCIC1034
Peso: 0.001 Kg
Disponibilidad: En Stock

ARS 3015.00
El producto no está disponible para la venta en este momento
Características
Description:
The ESP32-PICO-D4 is a System-in-Package (SIP) module that is based on ESP32, providing complete Wi-Fi and Bluetooth functionalities.
The module has a size as small as 7.0±0.1 mm×7.0±0.1 mm×0.94±0.1 mm, thus requiring minimal PCB area.
The module integrates a 4-MB SPI flash.
At the core of this module is the ESP32 chip*, which is a single 2.4 GHz Wi-Fi and Bluetooth combo chip designed with TSMCs 40 nm ultra-low power technology.
ESP32-PICO-D4 integrates all peripheral components seamlessly, including a crystal oscillator, flash, filter capacitors and RF matching links in one single package. Given that no other peripheral components are involved, module welding and testing is not required either. As such, ESP32-PICO-D4 reduces the complexity of supply chain and improves control efficiency.
Links: