Productos
XMEGA Xprotolab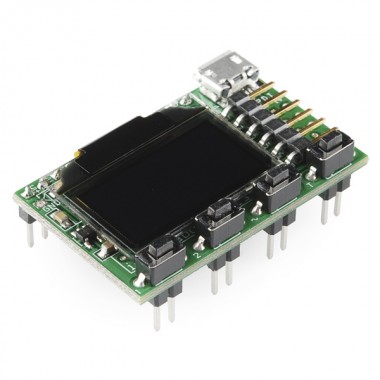 Mini generador de ondas digital, analizador lógico y ociloscopio digital, en un circuito impreso de 25 x 40mm. Ideal para montar en el protoboard.
COD: SFDEV11643
Peso: 0.015 Kg
Disponibilidad: Sin Stock

ARS 4572.00
El producto no está disponible para la venta en este momento
Características
Description: When you think about a piece of equipment like a mixed signal oscilloscope you usually think of, well, a piece of equipment. What you probably don't imagine is a DIP package. The XMEGA Xprotolab is exactly that: The first ever mixed signal oscilloscope, logic analyzer and arbitrary waveform generator in a DIP module. At only 1 x 1.6 inches, this oscilloscope can be plugged directly into a breadboard.
The on-board graphic OLED matrix can display waveforms, measurements and menu systems. You can also connect it to your PC and use Gabotronics' XScopes software to control the device and view waveforms.
The scope itself obviously allows simultaneous sampling of analog and digital signals but also has several advanced trigger modes, XY mode for plotting Lissajous patterns, phase differences or V/I curves, Spectrum Analyzer with different windowing options and even an arbitrary waveform generator with sweep on all parameters.
The awesome functionality-to-size ratio is due, in part, to the ATXMEGA32A4U microcontroller on board. We can hear you thinking, "This board has an ATXMEGA32A4U, an OLED display and USB interface? Scope or no scope, this would be a great development board!" Well Gabotronics had the same thought and installed a USB bootloader so there's no need for specialized programming tools!
Dimensions: 1.615" x 1.01"
Features:
ATXMEGA32A4U Development Board

ATXMEGA32A4U 36KB Flash, 4KB SRAM, 1KB EEPROM
Graphic OLED display 0.96", 128x64 pixels
PDI interface
4 tactile switches
USB connectivity
Logic Analyzer

8 Digital Inputs, 3.3V level
Maximum sampling rate: 2MSPS
Frequency counter: 12Mhz
Protocol Sniffer: UART, I2C, SPI
Internal pull up or pull down.
Buffer size: 256
Mixed Signal Oscilloscope

2 Analog Inputs
Maximum Sampling rate: 2MSPS
Analog Bandwidth: 200kHz
Resolution: 8bits
Input Impedance: 1MΩ
Buffer size per channel: 256
Input Voltage Range: -14V to +20V
Arbitrary Waveform Generator

1 Analog Output
Maximum conversion rate: 1MSPS
Analog Bandwidth: 44.1kHz
Resolution: 8bits
Output current > +/- 7mA
Buffer size: 256
Output Voltage: +/- 2V
Comentarios
Escribir Comentario
OpenHacks
(26/10/2016 - 16:57)
Hola Andres, tendremos nuevamente en 30 días. Saludos!
Andres
(26/10/2016 - 15:39)
Ya te compre 2, uno me lo compro un amigo, el otro lo perdí, cuando traes mas?