Productos
ED20 GSM/GPRS+GNSS Module, Based on MT2503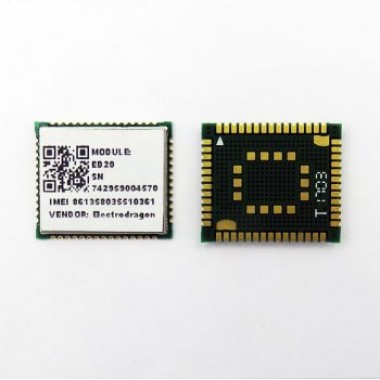 Módulo GPRS/GSM con soporte para 4 frecuencias, basado en el chip MT2503. Soporta además GNSS, incluyendo GPS y BDS, entre otras. Funciona mediante comandos AT.
COD: TRONGS1059
Peso: 0.005 Kg
Disponibilidad: En Stock

ARS 2345.00
El producto no está disponible para la venta en este momento
Características
Description:
This is module based on Mediatek MT2503 core, more features see this wiki page.
32-BIT ARM7EJ-S TM RISC 260MHz, 4MB Flash+4MB RAM
Support GSM/GPRS four band frequency
Support GNSS, including GPS and BDS, also Mediatek EPO technology, seconds-level positioning (advertse and real test are all about 30 seconds), LBS location, and many other advanced features.
More featuers like ADC read (support by at commands), PCM, SPI, SD-card, GPIO, etc. Examples to use also avaialble.
LCC package easy to populate.
Support openMCU, programming directly into module. Custom code, examples please see wiki page.
Important information:
Please notice this module flashed with default AT-commands firmware, but original firmware copy is not avaialble.
Mini-development board support out-of-box tracking and online read. (avaialbe in a week).