Productos
433/470/868/915MHz RHF76-052 SX1276 LoRa Module with Ultra Long Distance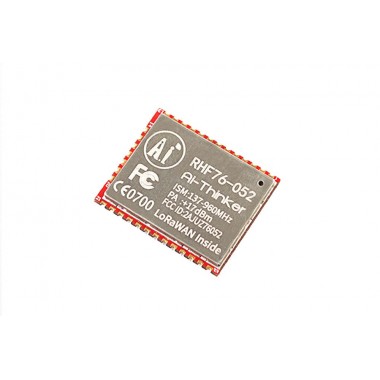 Módulo Lora de larga distancia (LoraWan de hasta 15 Km), de 17dBm. Posee alta sensibilidad, alto rechazo a interferencias y muy bajo consumo. Integra el chip STM32L052C8T6. Provee interfaz UART y se alimenta con 3.3 V. Puede ser usado en las siguientes aplicaciones: red inalámbrica domótica, radioenlaces en agricultura, sistemas de seguridad, control y automatización industrial, etc.
COD: EWCW00514L
Peso: 0.004 Kg
Disponibilidad: En Stock

ARS 3512.00
El producto no está disponible para la venta en este momento
Características
Description:
The chip of this module is SX127X, and put STM32L052C8T6 inside. With low consumption design, it can work above 10 years with periodic polling wake up energy saving mode. This ship uses LoRa SSM technology, it has high acceptance sensitivity, super anti-interference ability. The communication distance, acceptance sensitivity is far beyond the current FSK, GFSK modulation. This module uses LoRa extended chip, which has high performance, low power consumption, stable function. The PCB of this module has super heat resistance, corrosion resistance, moisture resistance and stability. The capacitor and inductance is Murata, which is tiny, high precision, high Q quality. The module has high precision, low temperature drift and green environmental protection crystal.
This module can be widely used in places of Internet of things, such as automatic meter reading, building automation, security system and remote irrigation system.
Features:
Certified by FCC&CE, IC, TELEC.
Low power consumption, the function is stable and reliable.
Not only has beautiful color, but also good ductility, anti fatigue and good corrosion resistance.
With wireless data encryption processing, is more secure to transmit data.
Specifications:
Working frequency: 433/470MHz, 869/915MHz.
Output power: +17dBm.
Communication distance: 15Km.
Receiving sensitivity: -148dBm.
Working voltage: 3.3v (1.8-3.6v).
Size: 28 x 23 x 2.95 mm.
Communication interface: UART.
Working temperature: -40℃-85℃.
Weight: 3.2g.
Package list:
RHF76-052 SX1276 LoRa Module x 1.