Productos
32u4 with A7 GPRS/GSM/GPS Board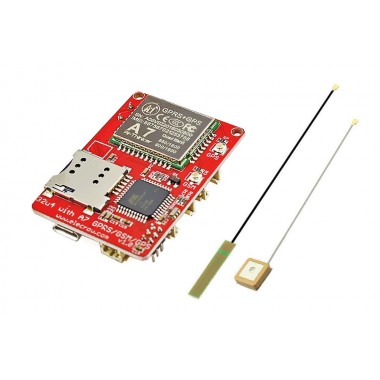 Placa basada en el mega 32U4 que incluye el famoso módulo A7, capaz de brindar conectividad GSM, GPRS y funcionalidad GPS.
COD: EACM20327B
Peso: 0.020 Kg
Disponibilidad: Sin Stock

ARS 6014.00
El producto no está disponible para la venta en este momento
Características
Description
The new 32U4 with A7 GSM/GPRS/GPS Board is based on mega32U4 and A7 GSM/GPRS/GPS module. Compare to 32u4 with A6 GPRS GSM Board, it adds a GPS function,it also can call and send text message even via GPRS to upload data to server. At the same time it leads to an analog interface, an IIC interface and 2 digital interface. which you can connect to other module more easily.
Remote control and data acquisition will be more convenient.It is worth mentioning that this module can be powered by battery, and comes with a battery charging circuit, some IOT projects will make it take a leading role.
Add three GPS commands as follows:
AT+GPS=1 :OPEN GPS function
AT+GPSRD=1 : Get GPS information
AT+GPS=0: Close GPS function
Features
32U4 combine with A7 module
Multiple interfaces
3.7V Battery power supply
GSM/GPRS/GSM function
Support the GSM / GPRS four bands, including 850,900,1800,1900MHZ
Support China Mobile and China Unicom's 2G GSM network worldwide
GPRS Class 10
Support GPS and AGPS
Support ROHS, FCC, CE, CTA certification
Specifications
Operating temperature -30 ℃ to + 80 ℃
Operating Voltage 3.3V-4.2V
Sensitivity <-105
Standby average current 3ma less
Working Voltage:3.7V
Sizes: 50mm x 35mm
Package list
32u4 with A7 GPRS/GSM/GPS Board x1
GSM antenna x 1
GPS antenna x 1
Links
Archivos