Productos
JT308 RFID ID Card Reader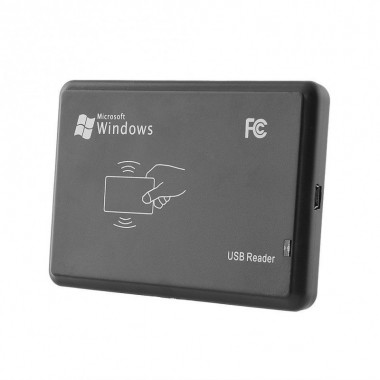 Lector de tarjetas RFID. Alimentación por USB.
COD: HTHR0690
Peso: 0.374 Kg
Disponibilidad: En Stock

ARS 2014.00
El producto no está disponible para la venta en este momento
Características
JT308 Series RFID reader operation is simple, fast reader. Part of the standard HID devices do not need to install the driver, can be read in any edit box card number (for example: Notepad, WORD text editing software), suitable for extended features in existing software, without having to do the original software any changes.
Product Specifications:
Communication modes: standard HID communication;
Power supply:DC 5V (+/- 5%)
Interface: RS232/R232
Expansion I / O ports :without
Operating temperature: -10 degree -70 degree
Status indication: 2 LED (one power LED status indicator), a BUZZER
Interface: full speed USB device interface, compatible with USB V2.0, universal serial bus interface;
Power Supply: USB Universal Serial Bus interface power supply;
Operating frequency: 125 KHz;
The induction maximum distance: 3 ~ 10 CM;
Support Card Type: EM series, 4001 series and compatible RF ID card;
Power consumption: less than 0.5 W;
Overall dimensions: 110 × 80 × 30MM
Use of the environment: temperature 0 - 50 ° C, Humidity :50-95RH Pressure :88-106Kpa.
Weight without communication line(135g),plus communication lines(180g)
Communication speed:106Kbit /s
Serial port baud rate :9600Kbit /s