Productos
Antena sopapa con conector SMA para GSM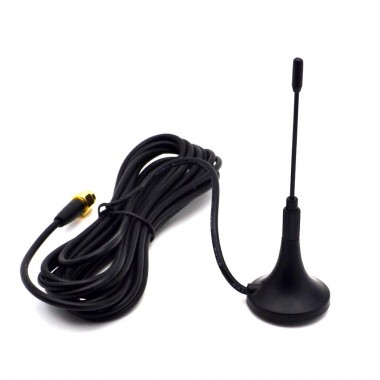 Antena con conector SMA compatible con Módulos sim900A, 908, 808. El cable posee una longitud de 3m.
COD: HTHR0673
Peso: 0.050 Kg
Disponibilidad: Sin Stock

ARS 648.00
El producto no está disponible para la venta en este momento
Características
Description:
Gain (dBi): 7
VSWR : ≤1.5
Input impedance (Ω): 50
Power Capacity (W): 100
Antenna Height (mm): 270
Line length (m): 3
Feeder Type : RG174
Useful Information:
SIM800 modules are upgraded version of its previous successful GSM/GPRS/GPRS module series SIM900. There are multiple sub versions of each series, each of which cater to a different set of users and applications.
SIM800 vs SIM900 GSM modules
There exist multiple versions of these modules,
SIM900 comes in the form of full version Quad band SIM900 & dual band version SIM900A, SIM900D
SIM800 comes in the form of full version Quad band SIM800 & stripped down compact size version SIM800C.
"What extra does SIM800 modules give me compared to SIM900 series modules?"
SIM800 GSM modules have a inbuilt Bluetooth stack compliant with 3.0+EDR & FM radio support, and the interface is accessible using AT commands.
SIM800C GSM module is comes in a very compact size of 17.6*15.7*2.3 mm dimensions compared to SIM900/SIM900 which come in 24*24*3mm package.
"How compatible are these both modem series?"
SIM800,SIM800C modem operates from 3.4V to 4.4V supply range (Reduced operating range !)
SIM900, SIM900A modules operate from 3.2V to 4.8V supply range.
Same AT commands used for simple call/sms functionality in SIM900,SIM900A can be used with the SIM800,SIM800C modules, but SIM800 series have added AT command set for supporting extra features like bluetooth.
"Which module should i use?"
First thing is you should use SIM800 module only if you need the features that are not present in SIM900 series modules, like ,
Use SIM800 module if you need Bluetooth/FM functionality which was missing in SIM900 series.
Use SIM800C module if you have stringent size constraints, SIM800C is almost a centimeter smaller in size compared to SIM800 module and it is a huge saving on PCB real estate.
SIM800, SIM800C, SIM900 can be operated worldwide because they can operate in all four GSM bands used across the world.