Productos
7 inch LCD HDMI Touch Screen Display TFT LCD Panel Module 800x480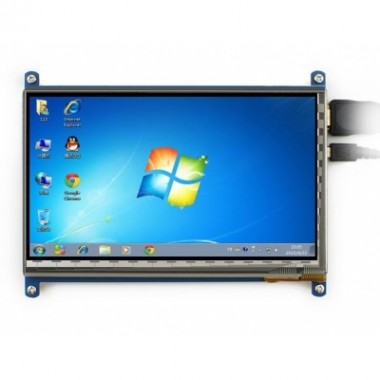 Panel TFT LCD de 7 pulgadas con tecnología táctil capacitiva, el cual ofrece una resolución de 800*480. Incluye CD con utilidades, cable micro USB, cable HDMI, y un juego de tornillos para montaje. Dispone de la posibilidad de activar o no la opción de Backlight.
COD: HTHR0121
Peso: 0.400 Kg
Disponibilidad: Sin Stock

ARS 20306.00
El producto no está disponible para la venta en este momento
Características
Description:
I am 7 inch HDMI display for raspberry pie making, 800x480 HD resolution, with capacitive touch screen.
Of course, I also not limited to use raspberry pie.
Can say, I am also a universal HDMI display, you can will I use the other mini PC (to drive), or even as a computer monitor.
If you need a HDMI display, eager to change the world, no one can stop you.


800 x 480 HD resolution
Capacitive touch control
Support Pi Raspberry
Support Pi Banana, Pro Banana, provide Lubuntu, Raspbian corresponding mirror
Support Black BB, provide the corresponding mirror image Angstrom
General HDMI display, can be used as a computer monitor
HDMI interface is used to display and USB interface is used to touch
Support the backlight control, saves the electricity
Rev1.1 version(unscrupulous merchant piracy is the version of the cottage):
Using a proprietary HID protocol, porting to your system is more difficult
When used with Raspberry Pi, access Raspbian or Ubuntu system need to install the driver, does not support Windows 10 IoT
When used as a computer monitor, you can't touch it.
Rev2.1 version(upgrade version):
Use standard HID protocol, you can into their systems
When used with Raspberry Pi, support Raspbian, Ubuntu, 10 IoT Windows, single point touch, to avoid flooding
Used as a computer display, supports Windows 10/8.1/10/8.1, touch until five o 'clock, avoid flooding
The mini PC support description:
| model | drive | The mirror |
| --- | --- | --- |
| Raspberry Pi B | Raspbian | Raspbian |
| Raspberry Pi A+ | Raspbian | Raspbian |
| Raspberry Pi B+ | Raspbian | Raspbian |
| Raspberry Pi 2 Model B | Raspbian | Raspbian,Ubuntu,Windows 10 IoT |
| Banana Pi | -- | Raspbian,Lubuntu |
| Banana Pro | -- | Raspbian,Lubuntu |
| BB Black | -- | Angstrom |
Note:
Driver: you can use on the use of system. Such as Raspbian drive, add to your Raspbian system, can support the display and touch.
You cannot use mirror: in the use of the system. The mirror is an independent system, we provide support for image, display and touch
The product includes:
1. 7inch HDMI LCD (B)× 1
2. HDMI connection line * 1
3. HDMI connection line * 1
4. RPi copper column package (4 PCS) x 1
5. Data CD * 1