Productos
Adafruit 12-Key Capacitive Touch Sensor Breakout - MPR121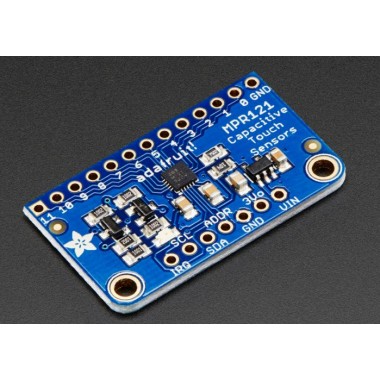 Añade sensores touch a tu proyecto con microcontroladores con este módulo basado en el integrado MPR121. Este Breakout posee 12 canales y tiene una interfaz I2C para la comunicación con los microcontroladores.
COD: D001982
Peso: 0.010 Kg
Disponibilidad: Sin Stock

ARS 4846.00
El producto no está disponible para la venta en este momento
Características
DESCRIPTION
Add lots of touch sensors to your next microcontroller project with this easy-to-use 12-channel capacitive touch sensor breakout board, starring the MPR121. This chip can handle up to 12 individual touch pads.
The MPR121 has support for only I2C, which can be implemented with nearly any microcontroller. You can select one of 4 addresses with the ADDR pin, for a total of 48 capacitive touch pads on one I2C 2-wire bus. Using this chip is a lot easier than doing the capacitive sensing with analog inputs: it handles all the filtering for you and can be configured for more/less sensitivity.
This sensor comes as a tiny hard-to-solder chip so we put it onto a breakout board for you. Since it's a 3V-only chip, we added a 3V regulator and I2C level shifting so its safe to use with any 3V or 5V microcontroller/processor like Arduino. We even added an LED onto the IRQ line so it will blink when touches are detected, making debugging by sight a bit easier on you. Comes with a fully assembled board, and a stick of 0.1" header so you can plug it into a breadboard. For contacts, we suggest using copper foil or pyralux, then solder a wire that connects from the foil pad to the breakout.
Getting started is a breeze with our Arduino library and tutorial. You'll be up and running in a few minutes, and if you are using another microcontroller, its easy to port our code.
LINKS:
Documentation, Tutorials and more