Productos
tinyTILE - Intel Curie Dev Board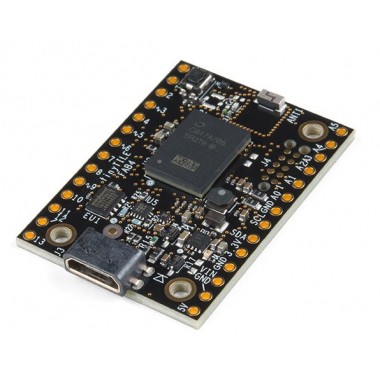 Adaptación en miniatura de la placa Arduino/Genuino 101 de bajo consumo, perfecto para aplicaciones IoT entre otras. Incluye acelerómetro/giróscopo de 6 ejes y Bluetooth entre otros. Se puede programar usando tanto el Arduino IDE como el IDE de Intel.
COD: SFDEV14281
Peso: 0.017 Kg
Disponibilidad: En Stock

ARS 10534.00
El producto no está disponible para la venta en este momento
Características
Description
The tinyTILE, an Intel® Curie-based board, is a miniaturized adaptation Arduino/Genuino 101®board perfect for wearable and IoT applications. The tinyTILE has been equipped with many of the same features as the 101 line with Bluetooth Low Energy (BLE) capabilities and an onboard 6-axis accelerometer/gyroscope, allowing you to be able to create plenty of imaginative projects. The tinyTILE board can be programmed using either the Arduino IDE or Intel's own software, the Intel®Curie™ Open Developer Kit (CODK).
Like its Arduino form-factor cousins, the tinyTILE's core is comprised around the Intel Curie module, a low-power computer module that comes with pattern-matching capabilities for optimized analysis of sensor data. This enables quick and easy identification of actions and motions. The tinyTILE is a complete low-power solution designed for multipurpose use and rapid prototyping.
The onboard Intel Curie module offers features that are ideal for "always-on" applications requiring motion monitoring, wireless capabilities and low power use — all in a small size. Inside the Curie are two tiny cores, an x86 (Quark) and a 32-bit ARC architecture core, both clocked at 32MHz. The Intel toolchain compiles your Arduino sketches optimally across both cores to accomplish the most demanding tasks. The tinyTILE comes with 14 digital input/output pins (same as the Arduino/Genuino 101s), six analog inputs, 384kB of flash memory, 80kB of SRAM, and a microUSB connector for serial communication and sketch upload. The board operating voltage and I/O is 3.3V, but all pins are protected against 3.3V overvoltage.
Features:
Microcontroller: Intel Curie
384kB flash memory
80kB SRAM
Low-power integrated DSP sensor hub and pattern-matching technology
Bluetooth Low Energy
6-axis combo sensor with accelerometer and gyroscope
Battery-charging circuitry (PMIC)
Regulated 3.3 volt power output