Productos
FEETECH 2WD Mini Smart Robot Mobile Platform Kit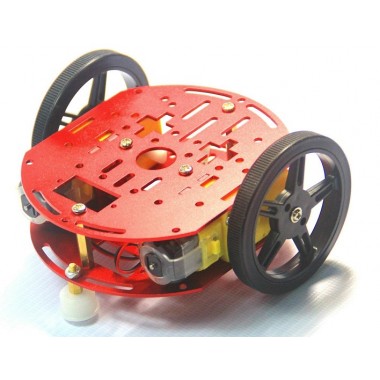 Kit para armar una plataforma de desarrollo robot de tres ruedas, fácilmente montable. No incluye controlador electrónico.
COD: FTDC002
Peso: 0.150 Kg
Disponibilidad: En Stock

ARS 1334.00
El producto no está disponible para la venta en este momento
Características
Description:
Mini Smart Robot Mobile Platform uses 2 DC motor gear box(1:48) to drive. High speed up to 200RPM,at 200mA/6V and 90rpm/150mA/3V.
Two plastic wheels are press-fit onto DC motor gear box output gear shaft, and easy to make a nice drive solution for small robots. The wheels have silicone tires and measure 60mm (2.36″) in diameter.
This Mini Smart Robot Mobile Platform frame make with 5051 aluminum alloy and anodize color (The factory default is red. Can do other color if need. Mini Robot Mobile Platform can assembly with Arduino controller. Easy to add all kinds of sensor and let it to work at your idea. This is a good start kit for student.
Features:
All about fun and creativity
Easy to assemble, an all-in-one solution for kids to improve the hands-on ability about programming, electronics, and robotics
Enjoy the pleasure of DIY (add all kinds of sensors, infrared ray, free become to obstacle-avoidance car, line- following vehicle. Remote control car,etc), provides infinite possibilities
Compatible with any controller, (Arduino, Raspberry Pi, Banana Pi, etc)
All kinds of kits to meet different requirements
Can add the encoder base on double DC motor box.
Specifications
Size(L*W*H): 100mm*80mm*27mm
Weight: 150g
Drive: 2WD
Frame: 1.5mm aluminum alloy structure, light weight and high strength
Color: Red(other color if need)
Work voltage: 3~6V
Package list
130 DC motor gear box x2
FT-DC-W wheel x2
Frame x 2 floor
DC bracket x 2pcs
Bull 's-eye bearing wheel x 1
Screw kit x 1