Productos
FiPy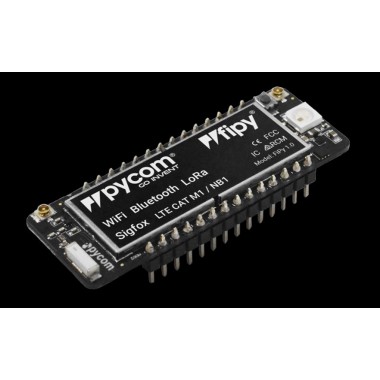 Módulo Fipy 1.0 que integra 5 formas de comunicación: Wi-Fi, Bluetooth, Lora, Sigfox y dual LTE-M, junto con un potente procesador, compatible con Micropython.
COD: PY00007
Peso: 0.050 Kg
Disponibilidad: Sin Stock

ARS 71622.00
El producto no está disponible para la venta en este momento
Características
Description
Imagine 5 networks in one perfectly-formed, same-small-foot-print-as-WiPy- LoPy-and SiPy, IoT development board. MicroPython enabled. FiPy includes WiFi, Bluetooth, LoRa, Sigfox and dual LTE-M (CAT M1 and NBIoT) the FiPy gives access to all the world's LPWAN networks on one tiny board.
Get on with a board that gives you full flexibility during testing, install, deployment and even later when you want to switch real-time your airtime network provider. You can switch when the time is right for you or set some parameters that will do so automatically.
FiPy Features
– Powerful CPU
– Five networks: WiFi, BLE, cellular LTE-CAT M1/NB1, LoRa and Sigfox
– 1KM WiFi range
– MicroPython enabled
– Fits in a standard breadboard (with headers)
– Ultra-low power usage: a fraction compared to other connected microcontrollers
Processing
– Espressif ESP32 SoC
– Dual processor and WiFi radio system on chip
– Networking processor handles the WiFi connectivity and the IPv6 stack
– Main processor is entirely free to run the user application
– An extra ULP-coprocessor that can monitor GPIOs, the ADC channels and control most of the internal peripherals during deep-sleep mode while only consuming 25uA
Interfaces
– 2 x UART, 2 x SPI, I2C, micro SD card
– ANalog channels: 8×12 bit ADCs, 2×8 bit DAC
– Timers: 2×64 bit with PWM with up to 16 channels
– DMA on all peripherals
– GPIO: Up to 22
Hash / Encryption
SHA, MD5, DES, AES
WiFi Networking
802.11b/b/n 16mbps
Bluetooth
Low energy and classic
RTC
Running at 32KHz
Range
Node range: Up to 50km
Security & Certifications
– SSL/TLS support up to 1.2
– WPA Enterprise security
– AES encryption engine
Memory
– RAM: 4MB
– Flash Memory: 8MB
– GPIO: Up to 22
– Hardware floating point acceleration
– Python multi-threading
Power
– Voltage Input: 3.3V – 5.5V
– 3v3 output capable of sourcing up to 400mA
Sigfox Operating Frequencies
RCZ1 – 868MHz(Europe)
RCZ2 – 902MHz (US, Canada and Mexico)
RCZ3 – (Japan and Korea)
RCZ4 – 920-922MHz (ANZ, Latin America and S-E Asia)
Sigfox Specification
– TI CC1125NarrowbandTransceiver
– Class 0 device. Maximum Tx power:
– +14dBm (Europe)
– +22dBm (America)
– +22dBm (Australia and New Zealand)
– Node range: Up to 50km
– Sigfox pre-certified (October 2016)
– Power
– Sigfox (Europe): 17mA in Rx mode, 47mA in Tx mode and 0.5uA in standby
– Sigfox (Australia, New Zealand and South America):
24mA in rX mode, 257 mA in Tx mode and 0.5uA in standby
Bluetooth Networking
– Low energy and classic
– Compliant with Bluetooth v4.2 BR/EDR and BLE specification
– Class-1, Class-2 and Class-3 transmitter without external power amplifer
– Enhanced power control
– +10dBm transmitting power
– NZIF receiver with -98 dBm sensitivity
– Adaptive Frequency Hopping (AFH)
– Standard HCI based on SDIO/SPI/UART
– High speed UART HCI, up to 4 Mbps
– BT 4.2 controller and host stack
– Service Discover Protocol (SDP)
– General Access Profile (GAP)
– Security Manage Protocol (SMP)
– Bluetooth Low Energy (BLE)
– ATT/GATT
– HID
– All GATT-based profile supported
– SPP-Like GATT-based profile
-BLE Beacon
-A2DP/AVRCP/SPP, HSP/HFP, RFCOMM
– CVSD and SBC for audio codec
– Bluetooth Piconet and Scatternet
LoRa Operating Frequencies
– 868MHz(Europe) at +14dBm maximum
– 915MHz (North and South America, Australia and New Zealand) at +20dBm maximum
LoRa Specification
– Power consumption: 10mA Rx, 28mA Tx
– LoRaWAN stack – Class A and C devices
– Node range: Up to 40km
– Nano-gateway: Up to 22km (Capacity up to 100 nodes)
LTE-M Operating Frequencies
– 34 bands supports from 699Mhz to 2170Mhz (Total world-wide support)
LTE-M Specification
– One single chip for both CAT M1 and NB1 (yes, only one chip)
– 3GPP release 13 LTE Advanced Pro
– Supports narrowband LTE UE categories M1/NB1
– Integrated baseband, RF, RAM memory and power management
– Reduced Tx power class option
– Peak power estimations: TX current = 420mA peak @1.5Watt RX current = 330mA peak @1.2Watt
– Data rates:
– 300 kbps DL
– 375 kbps UL (LTE Cat M1 in 1.4 Mhz, HD-FDD)
– 40 kbps DL
– 55 kbps UL (LTE Cat M2 in 200 kHz, HD-FDD)
WiFi Networking
– Up to 1km range
– 802.11b/g/n 16mbps
– Power: 12mA in active mode, 5uA in standby
Size
55m x 20mm x 3.5mm (Without Headers)
Weight
– 7g
– 31g (Packaged)
Useful liks: