Productos
RGB Angel Eye light with Channel Control for Decorating/Model Car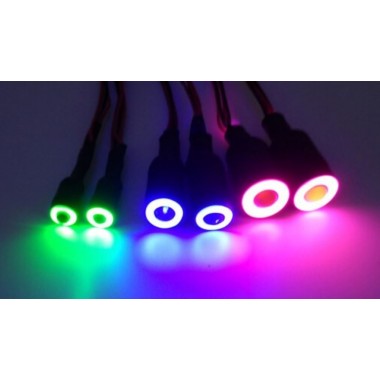 Modelo de luminaria RGB, que se dividide en dos canales: normal o ordinario y controlado. Ideal, por ejemplo, para utilizar con autos a control remoto.
COD: ECTD01099L
Peso: 0.010 Kg
Disponibilidad: En Stock

ARS 394.00
El producto no está disponible para la venta en este momento
Características
Description
This model lamp is divided into ordinary (without channel controlled) and with the channel controlled, which whole is including the outer aperture (rainbow color) and inner aperture (white color). Among the outer aperture of ordinary model lamp is always keep bright state but the inner can be control by switch.
Besides, the ordinary one is very easy to use that just plug the model lamp into the receiver. The diameter of this lamp is respectively 5mm, the diameter of the outer aperture and inner is respectively 5mm, so the total outside diameter of the lamp is 10mm and the total wire length is 50mm. Compared with ordinary model lamp, the model equipped with channel controlled has multi-pattern such as only turn on outer or inner aperture, both turn on, flash or both turn off and so on. In general, this product is commonly used as eye of the remote control car.
Features
Divided into two kinds: ordinary and with channel controlled.
Easy to use.
Specifications
Outer ring color: rainbow color.
Inner ring color: white color.
Total wire length: 50mm.
Outer aperture : 10mm.
Inner aperture : 5mm.
Package list