Productos
LAN Ethernet 2 Channel Relay Board Delay Switch TCP/UDP Controller Module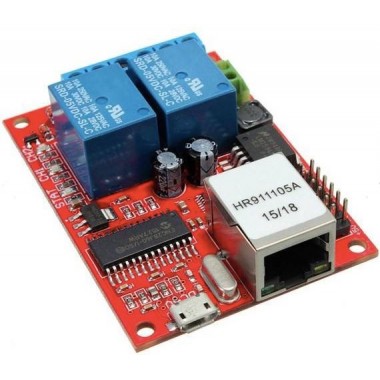 Placa de desarrollo que incluye dos reles que se pueden controlar remotamente a través de una conexión Ethernet.
COD: HTHR0356
Peso: 0.052 Kg
Disponibilidad: Sin Stock

ARS 5459.00
El producto no está disponible para la venta en este momento
Características
Features:
Micro-channel remote control 2-way remote cloud Ethernet
Network switch delay relay TCP/UDP relay module controller can be expanded to 8
Specifications:
Power requirements: DC5V, Micro USB power supply or DC9-24V
PCB dimensions: 70 x 50mm (L*W)
Product description:
Control via Ethernet and internet pull 2 ​​relay, then release, and can be extended by a pin external relay module to eight outputs.
Module supports TCP, UDP, cloud remote control three kinds of operation, easy to understand instructions, instruction can specify 1--65535 seconds delay.
Module is equipped with VB, Delphi PC program and source code to help you easily computerized remote control.
TCP and cloud remotely can check the status of all relays, also after each command processing is complete, the module will return to the latest state of all relays.
UDP mode no status query or other returns, code is extremely simple, easy to be embedded into a variety of applications.
Full support for secondary development, open TCP, UDP control protocol, cloud secondary development package provides remote SOAP Web Service API interface and RESTful Web Service API interface.
Module Features:
STC microcontroller for industrial master chip
Onboard 2-way high-quality relay, relay with absorption diode circuit
With 1-channel power indicator, each relay has status indicator lights up and relay
The relay module can be extended up to 8 outputs, Note: The relay module should be actived high
You can configure the module through the network parameters, such as the module IP address, default gateway, etc.
Holding relay status before power down (configurable)
Through internet control, remote cloud by local password protection, safe and reliable
Supports 5V or 9-24V input voltage
1.6mm thick PCB by the military grade FR-4 sheet material, PCB size 70mm X 50mm, set aside the mounting holes

Package includes:

1 x Delay relay TCP / UDP module controller