Productos
Banana Pi M2 Ultra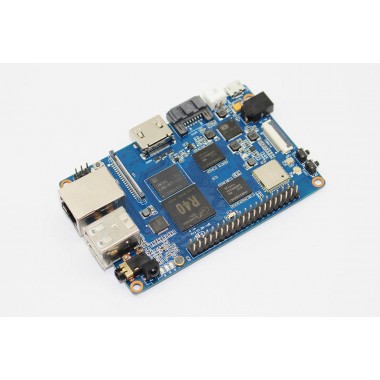 Esta potente mini-computadora, Banana Pi M2 Ultra, es una evolución de la Banana Pi M1, y esta basada en un procesador quad-core. Cuenta con una memoria RAM de 2GB e incluye Wi-Fi y Bluetooth on-board entre otras cosas.
COD: SINOBPIM2U
Peso: 0.050 Kg
Disponibilidad: Sin Stock

ARS 24736.00
El producto no está disponible para la venta en este momento
Características
What is Banana Pi M2 Ultra?

Banana Pi BPI-M2 Ultra is a quad-core mini single board computer built with Allwinner R40 SoC. It features 2GB of RAM and 8GB eMMC. It also has onboard WiFi and BT. On the ports side, the BPI-M2 Ultra has 2 USB A 2.0 ports, 1 USB OTG port, 1 HDMI port, 1 audio jack, a DC power port, and last but not least, a SATA port..
Also being a member of the Banana Pi family, the M2 Ultra is a direct upgrade from the Banana Pi M1/M1+ that support SATA from the SoC. The SATA performance on the R40 is fitting for media related projects such as storage servers. Backed by our community, starting a project and building servers is fun and rewarding. We welcome all companies, DIYers, and tech loving people within our community! Together, we can make a difference, we can discover our passions, inspire others, and build a practical project.
Key Features
Quad Core ARM Cortex A7 CPU. R40.
2GB DDR3 SDRAM.
8 GB eMMC storage.
WiFi (AP6212) & Bluetooth onboard.
SATA Interface.
M2 Ultra Specifications
CPU quad-core cortex -A7 R40
GPU MALI-400 MP2 @ 500MHz
Memory 2GB DDR3 SDRAM (shared with GPU)
Storage Support MicroSD Card(up to 64GB)/eMMC(8GB onboard)
SATA
Onboard Network 10/100/1000Mbps ethernet (Realtek RTL8211E/D)
WiFi 802.11 b/g/n (AP6212)
Bluetooth BT4.0 (AP6212)
Video In CSI connector that supports 8-bit YUV422 CMOS sensor CSI, CCIR656 protocol for NTSC and PAL, 5MP camera, 1080p video @30Hz
Video Out HDMI 1.4 1080P60
MIPI DSI for RAW LCD panels
Audio Out 3.5 mm Jack and HDMI
Audio In On board microphone
Power Source 5V 2A DC port
USB Ports 3x USB 2.0, USB OTG(Micro USB)
Buttons Reset button, Power button, U-boot button
GPIO 40 Pins: GPIO, UART, I2C bus, I2S bus, SPI bus, PWN, +3.3v, +5v, ground
LED Power status Led and RJ45 Led
IR Onboard IR receiver
OS Android and Linux etc.OS
Dimensions 92mm x 60mm
Weight 45g
Links: