Productos
Banana Pi R1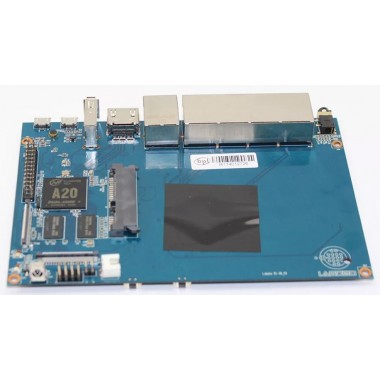 Banana Pi R1 es un router basado en el sistema en chip de la clasica Pi M1. Tiene 4 puertos LAN de 4 GigaBit, 1 puerto WAN de 1 Gigabit entre otras cosas.
COD: SINOBPIR1
Peso: 0.052 Kg
Disponibilidad: Sin Stock

ARS 36894.00
El producto no está disponible para la venta en este momento
Características
What is Banana Pi R1?
The Banana Pi R1 is a router based Banana Pi running on the same SoC as the M1 Classic Pi.
The R1 is a open hardware router that can run on a variety of open source operating systems including OpenWrt, Android, and Bananian. The R1 has slim router form factor with a bay for 2.5" HDDs. It also has 4 Gigabit LAN ports, 1 Gigabit WAN, and 300Mbs wireless N capabilities.
Banana Pi is an open platform device, it is for anyone who wants to play and build with developer technology instead of simply using consumer technology. Backed by our community, starting a project and building servers is fun and rewarding. We welcome all companies, DIYers, and tech loving people within our community! Together, we can make a difference, we can discover our passions, inspire others, and build a practical project.
Key Features
Dual-core 1.0GHz CPU.
1 GB DDR3 memeory.
Mali-400 MP2 with Open GL ES 2.0/1.1.
4x Gigabit LAN 1x Gigabit WAN
R1 Specifications
CPU A20 ARM Cortex-A7™ Dual-core
GPU ARM Mali-400 MP2 with Open GL ES 2.0/1.1
Memory 1 GB DDR3 SDRAM
Storage Support SD Card(up to 64GB)/SATA(up to 2TB)
Onboard Network 4x Gigabit LAN 1x Gigabit WAN
Video In CSI input for video cameras
Video Out HDMI,CVBS,LVDS/RGB
Audio Out 3.5 mm Jack and HDMI
Audio In On board microphone
Power Source Micro USB, optional 5V DC port (center positive 1,6 x 4,4mm)
USB Ports 2x USB 2.0
Buttons Reset: next to Micro USb
Power: next to reset
Boot(optional): behind HDMI connector
GPIO GPIO, UART, I2C Bus, SPI Bus with two chip select,
CAN bus, ADC, PWM, +3.3v, +5v, ground
LED Power key and RJ45
OS Android, Raspbian, Ubuntu, OpenSUSE, Debian, Bananian
Dimensions 92mm x 60mm
Weight 52g
Links: